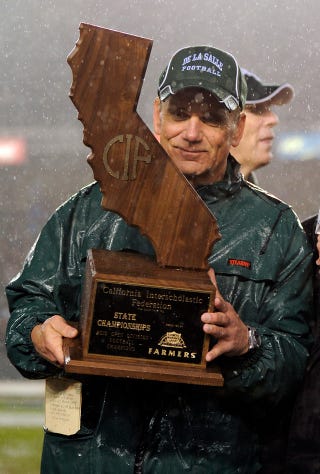 If you're looking for a legendary coach amid today's high school football landscape, it's hard to top Bob Ladouceur's credentials. But after 399 wins over 34 seasons at De La Salle High School in the Bay Area and throughout a tenure that has produced more than a few NFL players (read: Amani Toomer and Maurice Jones-Drew) as well as an all-time, 151-game winning streak, it looks like Ladouceur is ready to call it quits at a press conference scheduled for tomorrow.
Here's Stephanie Hammon of The Contra Costa Times with more:
The school offered no details about the 3 p.m. news conference except to say it would "provide information about the future direction of its football program."

Ladouceur said he wasn't able to comment on what the press conference will address. "I have people I still need to talk to," he said.

[...]

During De La Salle's run to a fourth consecutive Open Division state championship last month, Ladouceur publicly acknowledged that he was considering stepping down after the 2012 or 2013 seasons. When De La Salle beat Centennial-Corona 48-28 on Dec. 15 to cap a 15-0 season, he told reporters he would decide after the holidays whether to return for another year.

He also hinted that even if he retires as head coach, he'd likely be staying with the program in some coaching capacity.

For years, it's been widely speculated that offensive line coach Justin Alumbaugh will be Ladouceur's successor. Alumbaugh, a 1998 graduate of De La Salle, was a senior linebacker and tight end when the Spartans broke the previous national record of 72 straight wins.

He began coaching at De La Salle while still a college student at UCLA and has run the Spartans' off-season conditioning program for several years.
Even if Ladouceur's future involvement with the program is minimal, it's clear we still haven't heard the last of his name, by any stretch:
A movie on Ladouceur and the De La Salle football program starring Jim Caviezel is currently in the works. The film is based on a book by former Contra Costa Times columnist Neil Hayes — "When the Game Stands Tall" — that chronicled the 2002 season.

[...]

The Spartans have won 26 straight games and a number of impact players will return from a squad that finished the year ranked No. 1 in the nation by ESPN and No. 4 by USA Today.
De La Salle, Bob Ladouceur to address "future direction" of football program Friday [Contra Costa Times]