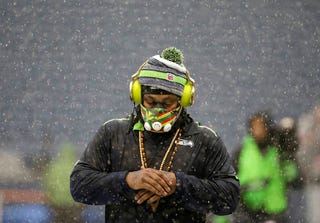 Marshawn Lynch might be doing the bare minimum for media sessions, but the NFL attempted to push him around another way. Lynch planned on wearing gold cleats in today's NFC Championship Game, but according to Jay Glazer, the league found out beforehand and threatened to prevent Lynch from playing if he wore those shoes.
The cleats in question are below. Lynch had the shoes customized for a reported sum of $1,000:
The NFL's threat is ridiculous. Sure, Lynch could be fined for a uniform violation, but the league planned on banning the running back from the game? Over shoes?
[FOX]
Photo: AP