Penn State's board of trustees voted Friday to approve settlement offers to some of the victims of Jerry Sandusky's child-sex abuse. At the time, no figures were made public. But the Legal Intelligencer, a law newspaper based in Philly, is citing sources who say the offers are "in the close proximity of" $60 million.
Sandusky was convicted of molesting 10 boys and sentenced to 30 to 60 years in prison, but prosecutors had additional victims waiting in the wings on federal charges in the event he was acquitted last summer. A total of 32 plaintiffs have approached Penn State with claims.
The Legal Intelligencer's story (which is behind a pay wall) says lawyers for a "majority" of plaintiffs have accepted offers but have yet to sign their paperwork. Others—a number the newspaper puts at "likely 10 or fewer"—are still in negotiations that could drive Penn State's liability above or below $60 million. Even some whose cases are beyond the statute of limitations have not had their claims rejected by Penn State.
The Legal Intelligencer's sources say "there's a good chance" all outstanding claims will be resolved by the end of the summer.
G/O Media may get a commission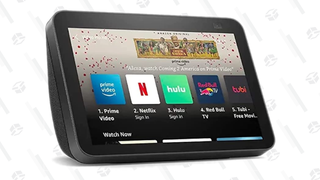 [Legal Intelligencer, via Onward State]
Photo: AP