Jerry Dipoto has learned an inviolable rule of working for the Angels: get into a power struggle with Arte Moreno's guy, and you're not going to win it. According to multiple reports, the Anaheim GM resigned and packed up his office last night.
Dipoto is "definitely out," a source told ESPN, and things moved quickly. According to a Fox Sports report, Dipoto was unhappy that manager Mike Scioscia and his coaches were ignoring the front office's scouting data on defensive positioning and pitch selection. A meeting with the coaching staff on Friday turned contentious, and on Sunday, Dipoto met with the players to inform them they would be receiving the data directly, since he had no faith in their coaches to pass it along. That was untenable, and it lasted two days.
On Monday night the Fox Sports report was published, putting a bow on the discord that had been extant between Dipoto and Scioscia for a few years. Albert Pujols called the leak "really embarrassing," but denied that he had publicly challenged Dipoto at the second meeting.
"I don't need to talk about that. Who said I said that?" Pujols asked. "I didn't say that, I can tell you that. I've freaking been in this league in 16 years. I would never disrespect the team. If somebody wrote that, that's pretty wrong. Whoever. I haven't read that story and I would never waste my time on that ..."
G/O Media may get a commission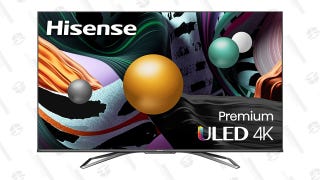 Save $350
Hisense ULED 65" Android 4K HDR Smart TV
To no one's surprise, Scioscia had more support than Dipoto. It's tempting to paint this as a single battle between advanced stats and old-school coaches, but much more than that it's a function of the Angels' power structure. Scioscia is loved by owner Arte Moreno, and wields something akin to GM powers—it was his desire to get rid of Mike Napoli, with whom he was feuding, that led to the trade that brought in Vernon Wells's terrible contract.
It was after that season that the Angels hired Dipoto, but his power was hamstrung. That winter the Angels signed C.J. Wilson, and the following year paid out big bucks for Josh Hamilton, and both moves are believed to have been at the behest of Moreno.

According to ESPN, Dipoto quit after he went to Moreno with an ultimatum that "backfired." It's not a stretch to assume it had something to do with unreserved player-personnel power—something most GMs don't have to worry about competing with their managers for. But Scioscia is Moreno's guy. He's been here for 16 seasons, and though it's been 13 years since his World Series title and he's pushed for some bad moves and alienated plenty of people since then, he maintains Moreno's full confidence.
Good luck to the Angels' next GM. Hope you like having two bosses.