According to reports in both the Wall Street Journal ($) and New York Times, a number of FIFA officials were just arrested in Zurich, Switzerland, and according to the Times are expected to be extradited to the United States where they will face charges of "wire fraud, racketeering and money laundering." The Times reports that the arrests are being made by Swiss authorities "at the request of the United States Justice Department." At least ten FIFA officials are under indictment.
FIFA officials are currently arriving in Zurich for FIFA's annual congress, which begins tomorrow. On Friday they will vote in FIFA's presidential election, where FIFA president Sepp Blatter is expected to win his fifth four-year term, as he has the support of almost every non-European football federation. His only competition is Jordan's Prince Ali Bin Al Hussein, as former Real Madrid star Luis Figo, as well as Royal Dutch Football Association chairman Michael van Praag, dropped out of the election a week ago, with Figo saying, "This process is anything but an election. This process is a plebiscite for the delivery of absolute power to one man - something I refuse to go along with."

The corruption charges likely stem from how FIFA awarded the 2018 and 2022 World Cups, to Russia and Qatar, respectively. Two weeks ago ESPN reported that Sepp Blatter was afraid of entering the United States for fear that he would be arrested, but it appears that the long arm of the American law can reach all the way into Switzerland. Here is how the Times explains the legal issues at play:
United States law gives the Justice Department wide authority to bring cases against foreign nationals living abroad, an authority that prosecutors have used repeatedly in international terrorism cases. Those cases can hinge on the slightest connection to the United States, like the use of an American bank or Internet service provider.

Switzerland's treaty with the United States is unusual in that it gives Swiss authorities the power to refuse extradition for tax crimes, but on matters of general criminal law, the Swiss have agreed to turn people over for prosecution in American courts.
G/O Media may get a commission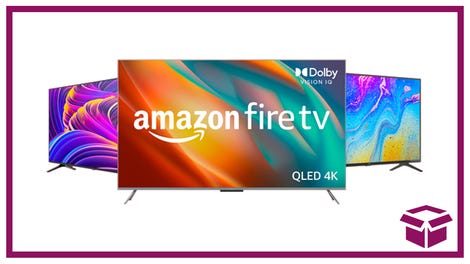 Ooh. stunning.
New Amazon Fire TVs
While not all officials under indictment have been named, the Times does have the names of a few: Jeffrey Webb (Cayman Islands), Eugenio Figueredo (Uruguay), and Jack Warner (Trinidad and Tobago). Warner was the longtime head of CONCACAF—the federation that includes the United States—until he resigned in 2011. In 2013 a CONCACAF report determined that Warner committed widespread fraud and profited millions of dollars from his position.
FIFA conducted its own investigation into the allegations of corruption regarding the award of the 2018 and 2022 World Cups, with former U.S. attorney Michael Garcia filed a 432-page report on the topic. But FIFA only released a 42-page summary of Garcia's report, and he eventually resigned in protest, saying the summary was incomplete and inaccurate.
FIFA has weathered numerous storms in the past. When you control the most popular product of the most popular sport on earth, you can do that. Neither the shady awarding of World Cups nor the thousands of slaves that will die in Qatar building World Cup stadiums has made a serious dent in FIFA's power. One can only hope this will.
Update (12:56 a.m.): It looks like Sepp Blatter is not one of the arrestees.
Update (1:04 a.m.): According to ABC, the indictments focus on awarding the 2022 World Cup to Qatar.
Update (1:09 a.m.): Costa Rican Eduardo Li is another one of the arrestees. The Times reports that Swiss law enforcement led him out a side-door of the hotel, and allowed him to bring his FIFA-logo luggage with him.
Update (1:35 a.m.): AP reports that six were arrested and "suspected of getting, paying millions in bribes." The Times originally reported that over 10 people would be arrested—their story has since been edited to note that "several" FIFA officials have been arrested so far—and The Guardian reports that 15 people worldwide may have been arrested.
Update (1:56 a.m.): FIFA has no comment:
Update (2:02 a.m.): The Swiss police have released a statement confirming that they arrested six individuals in Zurich on behalf of the US government. The statement specifies that those arrested are suspected of accepting over $100 million in bribes, and in return gave away various rights associated with soccer tournaments in Latin America. This explains why the four arrestees we know of so far are from Uruguay, Costa Rica, the Cayman Islands, and Trinidad and Tobago. The full statement is below:
By order of the Federal Office of Justice (FOJ), six soccer officials were arrested in Zurich today (Wednesday) and detained pending extradition. The US authorities suspect them of having received bribes totalingin the USD millions.

The six soccer functionaries were arrested today in Zurich by the Zurich Cantonal Police . The FOJ's arrest warrants were issued further to a request by the US authorities. The US Attorney's Office for the Eastern District of New York is investigating these individuals on suspicion of the acceptance of bribes and kick-backs between the early 1990s and the present day. The bribery suspects – representatives of sports media and sports promotion firms – are alleged to have been involved in schemes to make payments to the soccer functionaries – delegates of FIFA (Fédération Internationale de Football Association) and other functionaries of FIFA sub-organizations –totaling more than USD 100 million. In return, it is believed that they received media, marketing, and sponsorship rights in connection with soccer tournaments in Latin America. According to the US request, these crimes were agreed and prepared in the US, and payments were carried out via US banks.

Questioning of detainees

The Zurich Cantonal Police will question the detainees today on behalf of the FOJ regarding the US request for their arrest. A simplified procedure will apply for wanted persons who agree to their immediate extradition. The FOJ can immediately approve their extradition to the US and order its execution. However, if a wanted person opposes their extradition, the FOJ will invite the US to submit a formal extradition request within the deadline of 40 days specified in the bilateral extradition treaty.
Update (2:17 a.m.): Jeremy Schaap fills in some information relating to the timing of all this:
From the various reports, it seems like there are two paralell investigations going on here. The Swiss statement makes no mention Qatar, only the awarding of various rights for Latin American soccer tournaments stretching back into the 1990s. Schaap's statement is clearly referring to the awarding of the 2022 World Cup to Qatar, which happened on December 2, 2010. So, assuming that people are being charged under the Foreign Corrupt Practices Act for Qatar shenanigans, it had to happen soon.
Update (2:39 a.m.): The Times got their hands on the indictment, and report that it names 14 people:
The indictment names 14 people on charges including racketeering, wire fraud and money laundering conspiracy. In addition to senior soccer officials, the indictment is also expected to name sports-marketing executives from the United States and South America who are accused of paying more than $150 million in bribes and kickbacks in exchange for media deals associated with major soccer tournaments, according to one government official briefed on the matter.
Update (11:27 a.m.): Here is a new list of all those indicted along with their positions, from a press release that the Justice Department sent out:
Nine of the defendants were FIFA officials by operation of the FIFA statutes, as well as officials of one or more other bodies:

Jeffrey Webb: Current FIFA vice president and executive committee member, CONCACAF president, Caribbean Football Union (CFU) executive committee member and Cayman Islands Football Association (CIFA) president.

Eduardo Li: Current FIFA executive committee member-elect, CONCACAF executive committee member and Costa Rican soccer federation (FEDEFUT) president.

Julio Rocha: Current FIFA development officer. Former Central American Football Union (UNCAF) president and Nicaraguan soccer federation (FENIFUT) president.

Costas Takkas: Current attaché to the CONCACAF president. Former CIFA general secretary.

Jack Warner: Former FIFA vice president and executive committee member, CONCACAF president, CFU president and Trinidad and Tobago Football Federation (TTFF) special adviser.

Eugenio Figueredo: Current FIFA vice president and executive committee member. Former CONMEBOL president and Uruguayan soccer federation (AUF) president.

Rafael Esquivel: Current CONMEBOL executive committee member and Venezuelan soccer federation (FVF) president.

José Maria Marin: Current member of the FIFA organizing committee for the Olympic football tournaments. Former CBF president.

Nicolás Leoz: Former FIFA executive committee member and CONMEBOL president

Four of the defendants were sports marketing executives:

Alejandro Burzaco: Controlling principal of Torneos y Competencias S.A., a sports marketing business based in Argentina, and its affiliates.

Aaron Davidson: President of Traffic Sports USA Inc. (Traffic USA).

Hugo and Mariano Jinkis: Controlling principals of Full Play Group S.A., a sports marketing business based in Argentina, and its affiliates.

José Margulies: Controlling principal of Valente Corp. and Somerton Ltd.
[Wall Street Journal / New York Times]

E-mail or gchat the author: kevin.draper@deadspin.com | PGP key + fingerprint | Photo via Getty