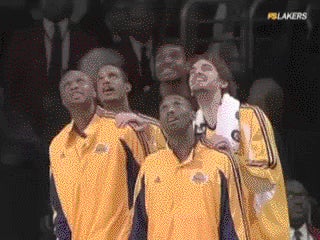 Depending on which report you read, Lamar Odom is either addicted to crack or oxycontin and Ambien. Odom, who is married (for now) to a Kardashian, was reportedly in rehab for one or all of these addictions last August and left after three weeks. He was clean for the 2012-2013 season.
There have also been reports that Odom cheated on The Other Kardashian and they are getting a divorce. Both TMZ and Radar quote "sources familiar with the situation" who say the Kardashian family was concerned and even staged an intervention for the guy diddling around on a loved one.
Basically, we have three takeaways here. First, that is a tremendous GIF. Second, don't smoke crack and third, don't piss off the Kardashians.
LAMAR ODOM CRACK COCAINE Drug of Choice [TMZ]
Lamar Odom Drug Abuse — Family Fears He's Hooked On 'Hillbilly Heroin' OxyContin & Ambien [Radar Online]