Broadcaster Dick Enberg died today at the age of 82 from a heart attack, according to the San Diego Union-Tribune and Associated Press.
Jokic? Embiid? The NBA MVP is obvious... right? | Keep it a Buck(et)
Enberg retired last year from a six-decade career that included announcing everything from the NFL and Olympics and MLB to tennis and boxing and golf. Beginning in 1975, he spent 25 years at NBC Sports, where he served as the lead play-by-play voice for both the network's NFL and MLB coverage. He then went to CBS before finally spending the last seven years of his career calling games for the San Diego Padres.
The breadth of his coverage and the length of his career are notable in and of themselves, but to focus on those features alone is to overlook what a simple joy it was to listen to Enberg: a broadcaster who never seemed to feel that he had to talk for talking's own sake, who was maybe best captured in the clarity and straightforwardness of his signature call of "oh my."
For now, here's an excerpt of the piece that Deadspin's Dom Cosentino wrote last year for the occasion of Enberg's retirement:
Enberg's voice has that air of Midwestern Nice to it, and it often sounds like he's smiling as he speaks. His signature catch phrase—"Oh my!"—was an expression of his mother's. Like [Vin] Scully, Enberg was raised in the era when radio—with its emphasis on storytelling—was the dominant medium, and so, like Scully, he understood how to spin a yarn, to personalize the experience. But with television, the visuals do the heavy lifting, and so Enberg's approach was to complement that, mostly by getting out of the way. If Scully was everyone's gracious old grandfather, Enberg was that friend who sat next to you on the couch, sharing your enthusiasm and your surprise.
G/O Media may get a commission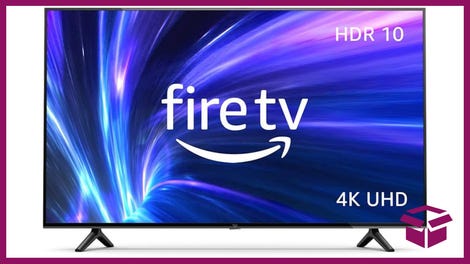 42% Off
Amazon Fire TV 50" 4K Smart TV