Donald Trump tweeted something very unkind about one of the hosts of a stupid-ass worthless morning cable news politics show. Oh no. The Republicans, they are very disappointed.

Here are some very disappointed Republican Senators.
G/O Media may get a commission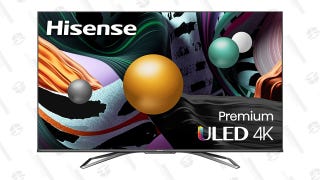 Save $350
Hisense ULED 65" Android 4K HDR Smart TV
Here is House Majority Leader Paul Ryan. He is very disappointed, also.
"Look, what we're trying to do around here," he says, "is improve the tone and the civility of the debate, and this obviously doesn't help do that."
Here's his House colleague, Republican Lynn Jenkins, of Kansas. She's very disappointed!
Here's representative Tom Reed, a very disappointed Republican from New York.
He is "concerned about that type of language"!
Here is a reminder: All of these people are members of a political party presently working out how to strip reasonable access to healthcare from tens of millions of vulnerable people—the poor, the sick, the elderly—so that they can kick back some tax money to the richest sliver of America's upper class without imperiling the job prospects of those of them who won elections by branding themselves as "moderates." Imagine thinking literally anything else "represents what is wrong with American politics." Imagine fretting over what does or does not empower women while your own party conspires to strip prenatal care from mothers. Imagine wringing your hands over civility while plotting to bankrupt and ruin the families of sick children so that a few billionaires can bleed just a little more cash out of the society they're destroying.
Nothing Donald Trump puts in a fucking tweet could ever equal the least portion of the cruelty the Republican party presently is working to enshrine into law. What is wrong with American politics can be summarized by the fact that these motherfuckers are not in jail.