So thanks for getting my hopes up. CC Sabathia is currently visiting the San Francisco Bay Area — he was born in the northern Calif. hamlet of Vallejo — and speculation was that he was flirting with the idea of becoming a Giant. And when you think about it, who wouldn't want to pitch at AT&T Park? But that pesky Brian Cashman followed him out here, carrying a suitcase full of cash like Fredo Corleone arriving in Cuba in Godfather II. The results were predictable.
CC Sabathia is a Yankee. Or, you know, very close to it. Terms: The largest pitching contract in major league history, at least $140 million, according to the New York Post. ESPN is saying that the deal is for seven years and $160 million.
The Yankees had extended a six-year, $140 million bid to Sabathia nearly a month ago. As the weeks passed and Sabathia did not accept the deal, a feeling began to pervade that he was trying hard to avoid the Bronx. Instead, this might simply have been a patient game of poker, Sabathia simply taking his time to make sure no desirable West Coast team with significant money would emerge. That never happened.
But the real story is where the Yankees are going next.
Cashman had met Monday night with A.J. Burnett's agent Darek Braunacker and expressed a willingness to exceed the four-year, $60 million bid by the Braves and that they would seriously consider going to a fifth year. Cashman also met with Scott Boras and the Yanks appeared willing to go to the four-year, $60 million plus range for Derek Lowe. In addition, the Yanks have talked with agents for several other starters, including Andy Pettitte, Randy Wolf, Oliver Perez and Ben Sheets. The Yankees received medical records on the oft-injured Sheets and were studying them. One person in the loop described Cashman as really pushing in a much more forceful way to begin closing deals, with or without Sabathia.
G/O Media may get a commission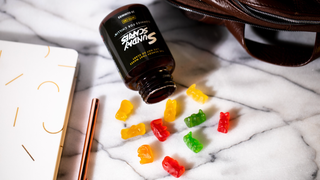 10mg CBD Gummies (22-Count)
That meeting between Cashman and Boras was otherwise unremarkable, except for the strong odor of sulfur in the air.
So, Sabathia and Joba Chamberlain at the same post-game buffet table. Stupid Yankees: Seven years? I'm not sure how they expect his arm to last that long. Well, now the Giants will have to settle for Randy Johnson, I suppose.
Meanwhile, ESPN rushed to get the news out. They have no time to resize photos!
CC Sabathia Picks Yankees [New York Post]