We already goofed on this year's Williams-Sonoma catalog, but plenty of readers have alerted me to the fact that, on an annual basis, the Restoration Hardware catalog is a far more insane enterprise. And they're right. It's bigger, more pretentious, more expensive, and has way more useless crap. This year's RH catalog came with a note from CEO Gary Friedman, along with his photo…

Jokic? Embiid? The NBA MVP is obvious... right? | Keep it a Buck(et)
Not only does Friedman look like a middle-aged guy trolling for pussy at Coachella, but he also writes exactly the way you'd expect the CEO of Restoration Hardware to write.
IMPOSSIBLE IS NOTHING. – Muhammad Ali
Okay, but you make furniture.
Activist, artist, antagonist. Philosopher, poet, promoter. Vietnam War adversary. Civil rights advocate. African-American fighter. Muslim man of peace. Olympic gold medalist. Three-time heavyweight champion of the world.
G/O Media may get a commission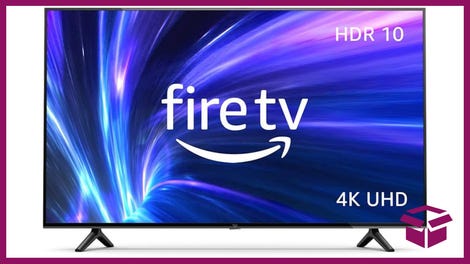 42% Off
Amazon Fire TV 50" 4K Smart TV
Yes, thank you for giving me Ali's Twitter bio if he had ever had one. "Husband. Father. Sometime pugilist. I box things."
Nothing was impossible for Muhammad Ali…
…especially when it came to shopping for $5,000 reclaimed Russian oak poster beds. Lie down in one and you will truly float like a butterfly, as Ali intended.
In a world where we are taught to conform from the day we are born, Muhammad Ali defied conventional wisdom and challenged the status quo.
The Greatest NEVER would have settled for ordinary rattan patio furnishings.
He illuminated a path of innovation and change, acceptance and understanding, hope and justice around the world.
And so we shall do the same, only with floor lamps.
We are inspired by the life and legacy of the man referred to as "The Greatest," and embrace his words that "Impossible is Nothing." As a publicly traded company, you're often rewarded for duplication and punished for innovation, decisions that require some level of short-term pain for long-term gain. We've taken our share of punches this past year for standing up for those things we believe in, decisions that will elevate our brand and inspire our customers for years to come.
I'm fucking dying. You make furniture, asshole.
We are creating some of the most innovative and immersive retail experiences in our industry…
"OMG this retail experience is so immersive! It's like I'm in a REAL furniture store! Whoa, that salesman looks like he's coming right at me! Wow."
…witness RH Chicago, The Gallery at the Historic Three Arts Club
Witness it. BEHOLD IT. Drink from its treasures.
(see the article "My Kind of Town" on page 658 of our Interiors Source Book)
What? No.
…a five-story, century-old building we reimagined and restored that blurs the lines between residential and retail, indoors and outdoors, home and hospitality, integrating a restaurant, wine vault, pantry and coffee bar …
It's an apartment but also a hamper but ALSO a garden.
…by famed Chicago restaurateur Brendan Sodikoff.
AHAHAHAHAHAHA Sodikoff. Hey what happens when Brendan uses meat slicer too quickly? HE SODIKOFF.
We continue our quest to unite and integrate the ideas of the most forward-thinking people in our industry. The many designers, artisans, architects and manufacturers highlighted throughout the pages of our new Fall Source Books who, like Ali, have challenged conventional wisdom, breaking down stylistic barriers and contributing to an evolving conversation of a new and inspiring way to live.
No, they haven't. They have not challenged conventional wisdom. They make fancy shit for yuppies, then change that fancy shit the next year so that yuppies buy it again when they get bored with their old furniture and enjoy having bad credit. Fucking Ivanka Trump has more in common with Ali than you people.
Thank you, Muhammad, for fighting.
FUCK YOU!
Thank you for showing us what is possible when we stand up for what we believe in.
YOU MAKE FURNITURE.
Carpe Diem,

Gary Freidman
That's how he signs it! Swear to God. I want a $60,000 stone coffee table to land on this man's foot.
NOTE: This post excerpted from yesterday's NFL Jamboroo.