If it's true that nobody actually KNOWS Tim Tebow, it's also true that we see in him whatever we want to see. That holds for his public appearances, his interviews, and his play from a bird's eye television angle. But thanks to NFL Films's Sound FX, we can get a little closer to Tim Tebow, actual NFL quarterback. Tebow wore a mic during Sunday's comeback win over the Bears, and it's an audio ink blot for your own personal Rorschach test. Everyone will take something different, for Tim Tebow contains multitudes.
The religious Tebow? He's on display. His day begins with a solitary prayer to "put a wall of protection around [him] and [his] teammates," and a promise to honor God with everything he does on the field. This isn't out of the ordinary for pro athletes, but how many of them sing a tone-deaf version of "Awesome God" to themselves as they toss the ball around during warm-ups?
But where does piety end and sport begin? During Matt Prater's tying and winning field goals, Tebow kneels on the sidelines, head down. It is either prayer, or it is the overwhelming stress of competition, or it is both. Multiple times throughout the game, Tebow exhorts his teammates with one word: "Believe." It is either faith, or it is a motivational technique, or it is both. Absent a definitive answer, you choose your own.
The microphone catches an assured leader and a great teammate. Whether it's shooting the shit with veteran Lance Briggs about fishing in Florida (the same Briggs who said he'd be "frickin' pissed" if he lost to Tebow), or joking with Demaryius Thomas that his dropped touchdown just means he now has the chance to catch the game-winner, this is a guy who sounds like he's been playing football for a decade, not 11 starts.
G/O Media may get a commission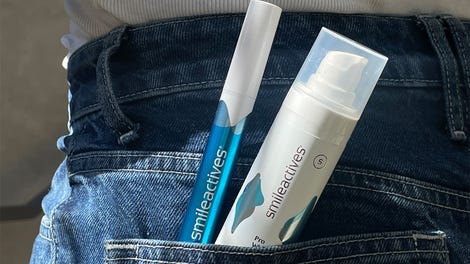 58% off
Whitening Powerhouse Pen & Gel Duo
You can take from this video what you will, but I see a quarterback who can't do this for long. Not because he's not good enough or confident enough or lucky enough, but because Tim Tebow simply can't survive it. Because he scrambles and doesn't slide, the hits put on him by a salivating defense are wince-inducing. The microphone picks up the crunch and thud of hit after hit, and the grunt as Tebow goes down...and the silence as he has to collect himself and regain his breath to do it all over again. The laws of physics and averages dictate that this man will break ribs before he breaks records, or separate a shoulder before his team separates itself from the rest of the AFC West.
So it's telling that Tebow doesn't pray for victory, only for his health. If you were a scrambling quarterback who relied more on brute force than speed or agility, you might reconsider your foxhole atheism too.