Every morning, the fine folks at Sports Radio Interviews sift through the a.m. drive-time chatter to bring you the best interviews with coaches, players, and personalities across the sports landscape. Today: So the Jets either make the Super Bowl, or they underperform.
Rex Ryan joined ESPN Radio New York on the Michael Kay Show to talk about the team's offense and whether he has concerns about it, if it is possible for Tim Tebow to get 20 touches in a game, what he is going to ask the defense to do this season, why he thinks this is the best team he has had, the status of Santonio Holmes, if it was his decision to stop the bold statements prior to the season starting and if he feels like he is on the hot seat.
On the team's offense:
"I can understand some fans having some concerns and all that. In particular our offense never scored a touchdown or something until the last preseason game, I understand that. I know how hard this team is working and I truly believe we're going to have, I'm confident that the hard work and everything I see on the field is going to carry over to the game. I truly believe that."
If it is true that there are games where Tim Tebow could get 20 touches:
"It could be. If we think there's going to be a big advantage of running the wildcat then that's what you're going to see more of. If a team is struggling with it then absolutely. We just care about moving the football, getting yards and I think whatever gives us the best chance to be successful then that is what we will do. We don't have to beat you a certain way. In my opinion we have a unique player that we will take advantage of."
On what he is going to ask the defense to do:
"It's going to vary week to week because there are going to be times when as good as our defense is we may struggle against some teams and we will need our offense to score more points. There will be other times where defense has got them on lockdown pretty much and maybe we don't need to score points, but I think this is a team. We will play every game that way. We just have to try to outscore an opponent by one point and if we do there will be a lot of happy Jets fans."
G/O Media may get a commission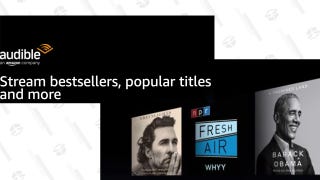 FREE
Audible Premium Plus 3-Month Free Trial
On why he believes this is the best team he has had:
"I just think playing complementary football. I think we are a team and I think that's the best thing we have. I truly believe this will be the best team and it might not be the best defense or the best offense or special teams or whatever but collectively I think we will have our best team. I never said anything, how many wins there will be or any of these other predictions but I truly believe this will be the best team. Nobody is going to convince me otherwise. That's how I feel right now and we will see what happens."
On the status of Santonio Holmes:
"I don't think so. I think Santonio will be ready to roll. Will he be able to play the entire game? I'm not sure but I feel like he has a good grasp of our offense and clearly Santonio Holmes is one of the top receivers in this game so we certainly need his presence out there."
If he chose to stop the bold predictions himself or if it was suggested by someone else:
"It was my decision. With me, each time you kind of look at where can I improve and all of that stuff. I've mentioned this before about when I would make those statements I thought it would come down on me, that if it never worked then the pressure was on me and not my players. As you find out later, even talking to some of the players, guys that I really respect and guys that no longer play, their point was different, that actually it was a burden to them. I never saw it and I was probably the only guy that never thought it would put added pressure on them but it did so I certainly don't want to do that. Obviously I had pressure on me and that's fine, that's where I want the pressure to be. I want our players to play fast and free and get after it without having that added burden on them. I will put the burden on myself but because of the fact that I felt like it wasn't just putting a burden on me it was putting a burden on them and that's why I won't make those predictions no matter how much I believe it."
If he feels like he needs to win this season to keep his job:
"I never look at it that way. I look at it as opportunity. (Host: Really?) Nah. Never. I could've gone other places that might not have had quite the pressure if you will, the scrutiny and all of that kind of stuff. Look, I know I'm a great coach and what makes me a great coach is the guys that coach with me and guys that play for me. Everything else this organization has for me. It's hard for me to look at myself as not being successful. I don't see that as even a possibility. One day, it might be 10 years from now or 15 years from now, when Woody Johnson wants to go a different direction then that's fine but I'm going to tell you one thing, I have complete confidence in myself. Whatever it is, I will leave it to the experts to say if my job is on the line or whatever. I know one thing I'm going to give everything I have to this organization and I know the guys that coach with me will do the same thing and I believe our players will as well. We will add it up at the end of the season."
On the culture change in New York:
"I've been in tons of meetings, all kinds of meetings, receiver meetings, running back meetings, all the rooms. I've been in the locker rooms and all of that. I'm very visible in all those types of areas. I think what happened after the first two years is I thought I pretty much had that in order and not realizing that every single year is a different year and there was such a turnover in the National Football League and not just with our team but every team. Each year is different and you have to cultivate that kind of culture that you want. That's something that I have gone and done. Like I said before I believe this team will be a tight team, I believe it understands how we're going to win and again you're going to have to beat the Jets. We're not going to have an anchor pulling this team down. There's not going to be negative things coming out from this end in my opinion. You're going to have to beat us at our strength, at our very best."
This post, written by Chris Fedor, appears courtesy of Sports Radio Interviews. For the complete highlights of the interview, as well as audio, click here.
More from Sports Radio Interviews
• Eli Manning isn't worried about a hangover, just doesn't want to go .500.
• The 49ers aren't going to sneak up on anyone.
• Chris Cooley will be fine, he doesn't want your pity.