In sports, everybody is a winner—some people just win better than others. Like New York Jets coach Rex Ryan, who won this weekend with one well-placed phone call. No, it wasn't to Batman.
The Jets talked a lot of smack last week and for the first time in 40 years they backed it up. (OMG, MARK SANCHEZ IS JOE NAMATH! Only not as "handsy.") They owe it all to a robocall from Ryan to Jets season ticket holders, reminding them that when you are at a sporting event it is acceptable—nay, even encouraged!—to voice your support for your favorite team through a series of "yells" and "cheers." No one had ever tried that before against Tom Brady and the Patriots and, shockingly, it worked! Genius! Enjoy your game ball, Faceless Horde!
Seriously though, Ryan said he wasn't going to kiss Bill Belichick's rings and now Bill Belichick can kiss his ass. At least until November when they meet again in New England. But you're the man for at least a few days, Rex. Even if your team might be stupidly messing around in that whole 49ers/Michael Crabtree debacle. Hey, what's football without a little tampering?.
Ryan praises role of loud crowd in Jets' victory [Newsday]
Rex Ryan's Jets back up all the talk, beat Tom Brady and Patriots, 16-9 [NYDN]
Jets' bombast bordering on the ridiculous [Dan Shaughnessy]
Patriot Pratfall: The View From New England [NY Times]
[Photo via Daily News]
G/O Media may get a commission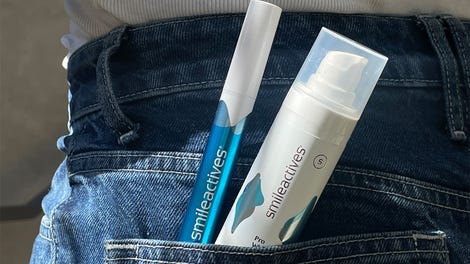 58% off
Whitening Powerhouse Pen & Gel Duo
* * * * *
Here are some other big winners, who did not win quite as big:
Lane Kiffin: Tennessee did not get embarrassed by Tebow and The Swine Flu this weekend. So that's like a victory, right? Florida is a terrible Best Team Ever! [Orlando Sentinel/USA Today/SI]
Ray Lewis: HEY, DREW DEEP BALLS! WOULD A GLORY HOUND RUN THROUGH A PUNCTURE-WOUND SIZED HOLE IN THE SAN DIEGO FRONT AND WIN THE GAME BY HIMSELF? (But also win it for the team! But also for himself!) NOW YOU SHALL WATCH ME DO MY DANCE! [Baltimore Sun]
Frank Gore: Barry Sanders was the last guy to have two 79-plus-yard runs in the same game. That was the season he ran for 2,000 yards. The Lions later got bounced from the playoffs and Sanders retired a year later. What I'm trying to say is that Matt Millen should be the GM of the 49ers. [SF Chronicle]
Milton Bradley: America's surliest baseball player finally got his wish—he doesn't have to play for the Cubs anymore. [Chicago Tribune]
Charlie Weis: As long as Mark Dantonio has a job, Charlie Weis is going to be okay. [Lansing State Journal]