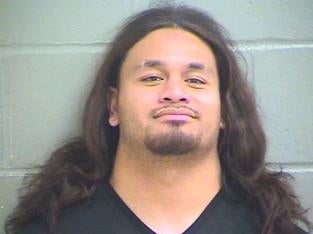 A Bengals player was arrested. Normally this is not news. What is news is that Maualuga was driving a 2003 Pontiac Sunfire.
The rookie LB was out in Covington, Ky., early this morning when he struck two parked cars and knocked over a parking meter. Since there's not a heck of a lot to do in Covington at 1:45 a.m., police figured out pretty quickly what the deal was.
Maualuga smelled of "intoxicants" and told the officer that he had "about six Captain and Coke drinks," the report states. The officer gave Maualuga field sobriety tests, which he failed, the report states.

"Subject had slurred speech, blood shot, watery eyes and he was unsteady on his feet," the officer wrote.

Maualuga had a blood-alcohol level of .157, according to a Covington Police report. The legal limit is .08.
Maualuga had two passengers in the car, an 18-year-old girl, and a "juvenile female." He was probably just taking them home from Brownies!
If I'm his lawyer, I'm already prepping the "his foot's broken and it's hard to drive with an air cast" defense.
Cincinnati Bengals linebacker Maualuga charged with DUI [Cincinnati Enquirer]