It's a scene we've seen before: Robert Griffin III, lying motionless on the turf as he's attended to by Washington's medical staff. Last night's preseason concussion, for which coach Jay Gruden is being blasted for leaving Griffin in behind a painfully overmatched offensive line, is all too familiar for everyone involved. I'm only unsure if at this point it's tragedy or farce.
Left tackle Trent Williams was out and Willie Smith was a turnstile on Griffin's blind side. The rest of the line couldn't do a thing to keep the Lions from getting to the quarterback—seeing that, the critics' logic goes, it's up to Gruden to make sure that quarterback isn't the starter. But Griffin was kept on the field for four increasingly brutal series.
"We felt confident in our tackle and our offensive line to try and get something going there with the fourth drive," Gruden said. "Unfortunately, it didn't happen."
On the night, Griffin dropped back to pass eight times, was hit six times, and sacked thrice. Here are four of those hits, including the fateful blow from Corey Wootton:
G/O Media may get a commission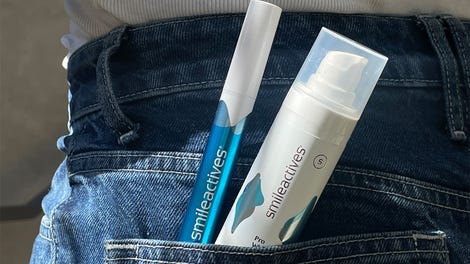 58% off
Whitening Powerhouse Pen & Gel Duo
This can't happen. Griffin has suffered major injuries in each of his first three NFL seasons, and, even in real-time last night, you could see him flirting with number four. This isn't Friday-morning quarterbacking: people were calling for Griffin to be benched and spared before the worst happened.
It wasn't quite so simple a decision for Gruden. This is the heart of the preseason, and starters need reps, and they need them with their projected units. Griffin is going to be under fire in the regular season too, and with the NFL's highest sacks-per-dropback rate last year, he needs to learn to protect himself better. Once the season starts, you can't just return him to his bubble-wrapping when things get rough. But this wasn't the season. It was preseason, and a few extra attempts matter so much less in the Skins' grand plans than risking Griffin missing extended time.
Here's the thing, though: it's not going to get better. Once Griffin returns (and Gruden says he's still the starter when he gets healthy), he's still sliding in behind that same offensive line. He's still going to struggle getting rid of the ball quickly. He's still going to take punishing hits. This team is so poorly constructed that Griffin's quotidian injuries feel as inevitable as they do merciful.