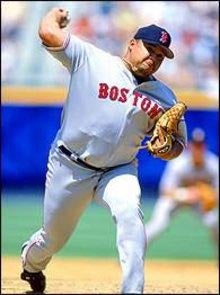 Because the world is a better place when Rich Garces holds a prevalent role in it, we bring you a definitive Rich Garces profile.
It's from Boston magazine, and it tracks the wacky, obese road show that is El Guapo's "comeback." Here's our favorite part:
But after nine innings, the score is tied 6-6. In the 10th, Pride manager Butch Hobson turns to Guapo, even though he's tired from traveling and hasn't thrown off a mound in 10 days. Bullpens in the bush are thin, and the organization, not to mention the fans, is eager to see its new acquisition in action. So in goes Guapo. But he doesn't go alone. He's accompanied by a very important message from the announcer:

"Ladies and gentlemen, boys and girls, introducing...El Guapo! El Guapo is brought to you by the New Hampshire Business Resource Center in Concord. If you have any questions about any aspect of doing business in the state of New Hampshire, visit nheconomy.com. That's nheconomy.com."
All Major League Baseball players, eventually, will be introduced by their personal corporate sponsor. We're surprised it hasn't happened already.
El Guapo Rides Again [Boston Magazine]