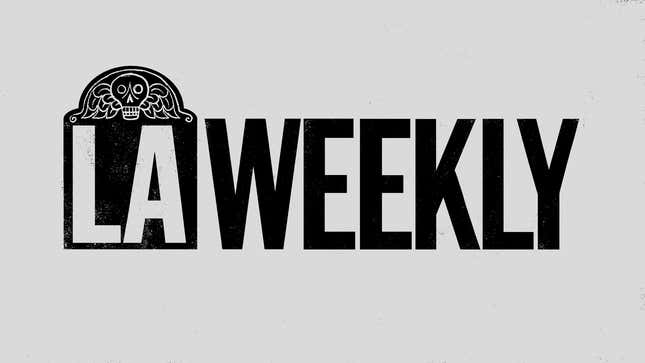 In 2009, L.A. Weekly wrote a story about jerkin'—a dance craze sweeping across the Los Angeles basin—that highlighted the work of then little-known rapper YG. "He was so fresh out of prison, he still had 'FREE YG!' on his MySpace page," the story's author Jeff Weiss told me. It was one of the first interviews YG ever gave, and it's what got him signed to Def Jam, which sent him on the path to national superstardom and helped cement his status as a local folk hero. Weiss said, "[YG]'s A&R told me 'I plopped down the story and I told my boss, "This is what I've been talking about, this is why we need to sign this guy,'" and they said they signed him off that."

Bass' ERA stinks, but not compared to who he is off the mound | Worst of the Week Countdown
L.A. Weekly's archives are replete with hits like the YG story. Jonathan Gold's work in 2007 earned the Pulitzer Prize for criticism, and he remains the only food writer to win the award. Earlier this year, Jennifer Swann reported extensively on sexual misconduct allegations against executives at Cinefamily. Nationally prominent writers like New York Times film critic Manohla Dargis got started at L.A. Weekly. It's the most-read alt-weekly in the nation (per its own website), one of the largest media outlets in one of America's richest cultural hotbeds, and, compared to the nationally focused Los Angeles Times, solely dedicated to chronicling life in the city.
After last week, almost none of the people involved in any of those stories works at L.A. Weekly anymore. In fact, it's not exactly clear who works at L.A. Weekly anymore, or what L.A. Weekly even is anymore. The newspaper's immediate and long-term future is in question, and it's now been cut adrift in a shrinking local and national media scene that's become acutely crueler to journalists and increasingly beholden to powerful men with agendas. The L.A. Weekly still exists, though it's run by a consortium of rich men with ties to right-wing dark money. The story of L.A. Weekly is not just the story of a round of layoffs, or the story of the death of the print industry. L.A. Weekly did not have to be sheared of its talent and ethos like it was, and yet what happened to it isn't exactly surprising.
---
Two weeks ago, the newspaper was formally acquired by an unknown company, named Semanal Media, from its former parent company, Voice Media Group, after a sale process that had dragged on since mid-October. Staffers felt uneasy for more than a month after the announcement, as the sale to a mysterious buyer took far longer than expected. Former editor-in-chief Mara Shalhoup said she and her staff first learned of the potential sale of their own paper by reading reports in the Los Angeles Times. "I've never received an email, I was not part of any conversation, I have had zero contact with the new ownership," she said.

"How they handled the sale was something none of us have ever experienced before," former lead film critic April Wolfe told me. "A month and a half of knowing that we might get laid off, but we still have to put a paper together, and only knowing we might get laid off because the owner gave an interview to a different publication and never reached out to us." Voice Media Group did not respond to a request for comment.
On Nov. 29, the sword fell. As soon as the sale closed, Semanal purged L.A. Weekly's ranks, laying off nine of the paper's 13 editorial staffers, including all its top editors and all but one staff writer. The firings were severe enough that the Weekly's editorial staff no longer had the minimum amount of employees to stay unionized with the International Association of Machinists and Aerospace Workers.
The lone staffer who survived, Hillel Aron, was joined by L.A. Weekly's copy chief, its music listings editor, and its creative director—just a small enough crew to fulfill the basic requirements for putting out a paper. By any but the most charitable reads, Semanal had beheaded L.A. Weekly in public, without revealing anything about itself or even speaking to the staff. At the time of the firings, the only people publicly connected to Semanal were Brian Calle, opinion editor with the Southern California News Group and occasional instructor at Chapman University, and David Welch, a cannabis industry lawyer who filed the corporate paperwork.
At the time, it seemed that Semanal was perhaps buying the Weekly to strip it bare and shut it down. One former editor brought up the possibility, because operating in secret and unceremoniously deboning the paper's spine were, in addition to being cruel and anti-journalistic moves, horrendous PR blunders. In a surreal blog post on the day of the layoffs, former L.A. Weekly editor and current USC lecturer Keith Plocek asked "Who Owns L.A. Weekly?", a perfectly logical question that was answered in an even more surreal blog post from Calle announcing the new ownership team two days later.
"There is a lot of talk about who owns L.A. Weekly. We've seen all the speculation. Is it a Russian oligarch? Is it some Trumpista? Is it Lord Voldemort?" he wrote. "Rumors are rampant and the assumption is that someone bought the Weekly for some nefarious reason. But that's not the case." Calle announced an ambitious plan to revamp L.A. Weekly's "declining" coverage and "turn it around," remaking the "once [...] richly influential" paper into the "cultural center of the city."
Even if the paper was indeed in a tailspin, that trajectory only could be attributed to a slow drying up of resources. Circulation has steadily deflated over the past decade, but web traffic has been rising to take its place. A law legalizing recreational cannabis use in California is set to go into effect on Jan. 1, 2018, which several staffers pointed out would almost certainly have been a boon for L.A. Weekly, as it was for Denver's thriving alt-weekly Westword. L.A. Weekly's editorial staff was responsible for 12 stories a day, as well as producing a print paper with expansive features every week. Churning out that sort of volume while maintaining a strong product and doing so while the annihilation of your paper is potentially looming is a near-impossible needle to thread, and several former staffers confirmed to Deadspin that traffic had been rising for most of Shalhoup's three-year tenure at the helm.
"Frankly it's insulting," Shalhoup said. "The audience is there, or was there, and the number of stories is there and has been consistent. When I came in I made a concerted effort to say, 'Let's do fewer slideshows, let's move away from anything that feels like empty calories, let's focus on quality and push traffic there with smart digital strategic initiatives.' And it was working. I find it very crazy for anyone to say that this thing was on the decline."
"We believe in this paper so much," former arts and culture editor Gwynedd Stuart told me. Other staffers echoed this sentiment, and specifically pointed to the daunting workload of the job only being manageable because the product was something they were proud of. Weiss is a nationally known music critic who could have easily taken his work elsewhere, yet he said he chose not to because L.A. Weekly gave him his start and it held a special place in his heart.
---
The job of an alt-weekly is different than that of a big daily like the Los Angeles Times, a blog, or even a glossy magazine. The Times will cover the institutions of California and Los Angeles—City Hall, the capitol, the LAPD—and while the Times writes about marginalized people and the fabric of daily life in Los Angeles, it's not their principal interest. The Weekly, on the other hand, is hard-wired to cover things with a hyperlocal bent and give citywide exposure to people who otherwise wouldn't get their stories told. It's about power; broadly speaking, the Times is responsible for writing about large institutions of power and the Weekly is responsible for covering the people affected by those institutions. Both papers, of course, will write about both people and the city establishment, but their roles and voices are different.
For example, both April Wolfe and Katherine Spiers, the former food editor, cover topics of national interest in a way that few other outlets would or could. "A lot of people feel that Hollywood is separate from Los Angeles but we really strove to make the movie industry feel more connected to the city, so our coverage was very much about our city and owning this industry as ours and making Los Angeles this specific geographical place in movies," Wolfe said.

LA. Weekly was also crucial in providing a platform for underrepresented people and artists, who would otherwise be underserved by the city's media. The paper's editors were mostly women, and the paper actively chose to write about less-focused on topics and communities. Look no further than the paper's intensive coverage of the gentrification in Boyle Heights or its relentless coverage of L.A.'s red-hot rap scene. "It's a loss for the chefs, musicians, artists, activists whose work we are known for seeking out before anyone else does and whose work often gets recognized because we recognized it first," Shalhoup said. Weiss echoed that idea, saying, "It's horrifying for the people who lost their jobs, but it's a tragedy for the city of Los Angeles and especially the young artists, many of whom are women and people of color who the L.A. Weekly made a concerted effort to cover, because they had a hyperlocal slant."
Who will tell those stories now if the Weekly doesn't? Certainly not the LAist, a local news blog whose whole network of sites was abruptly burnt at the stake by its asshole billionaire owner Joe Ricketts because one of them had the temerity to unionize. Los Angeles's media climate is becoming monolithic, which fits alongside the disturbing national trend of regional papers across the country slowly withering on the vine. Even the Times has had its issues trying to unionize against the apparent wishes of Tronc, the dystopian new iteration of Tribune Publishing. This year alone, layoffs have hit national outlets like BuzzFeed, Mashable, Mic, ESPN, the Huffington Post, and ABC, but the cuts to local shops, especially the once vital alt-weeklies, have been even more dire.
---
So who does own the Weekly now? "There's something very dark going on, and I think it's purposeful, and I think that L.A. Weekly is just the latest victim of it," a former editor told me. The most public-facing new investor is Calle, though he is not the richest or most powerful person on the roster, seven of whom have been named (several people told Deadspin that they believe the group includes as many as 12).
Several of the new Orange County-based owners have donated to Republican Party causes and candidates in the recent past. Mike Mugel has donated $262,900 to PACs like TRUMP VICTORY and CONSERVATIVE, AUTHENTIC, RESPONSIVE LEADERSHIP FOR YOU AND FOR AMERICA (which would seem to negate Calle's flippant dismissal that the paper had been bought by "some Trumpista.") Welch, the weed lawyer, has donated to Congressman Dana Rohrabacher, who is friendly with the Vladimir Putin government in Russia to the point that the FBI said Russia regards him as an intelligence source. Andy Bequer donated $2,500 to Marco Rubio's presidential campaign.
Under Calle's oversight, the papers of the Southern California News Group have churned out standard libertarian fare editorials, and he's caught hell for a series of embarrassing foibles in the recent past. He apologized last January after an Orange County Register opinion piece argued against cheerleaders receiving classification as employees because of the job's "fringe benefits" included proximity to famous athletes, and later that year, another opinion piece argued against a candidate for state senate who turned out not to be running and then endorsed a candidate for state assembly who was also not running. SNCG is owned (if you trace back through a series of companies) by Randall Smith, a Wall Street tycoon with a habit of hoarding mansions and ransacking newspapers, a partner who would seem to be a perfect backer for someone with pro-capital ideas like Calle. (Calle has returned an email but has thus far declined to comment.)
Calle's non-SNCG work history has drawn plenty of its own scrutiny. Right before he got hired by SCNG, he spent a year at the Claremont Institute, a comically self-serious think tank that vows to "defeat progressivism." His Register bio says he is a Senior Fellow at the Pacific Research Institute, which has been funded by organizations tied to the Koch brothers. He is listed as the editor-in-chief of CalWatchDog.com (though he hasn't blogged there since 2014), a right-wing website founded by Steven Greenhut in 2009. When Calle was active and producing softball interviews with people like Dinesh D'Souza, CalWatch was funded by the Franklin Center for Government and Public Integrity, which set up a network of "watchdog" sites that once had presences in 40 states and now has a more national focus. That Franklin Center also has ties to the Koch brothers and what Mother Jones called other "dark-money ATMs of the right."
An anonymous Medium post pointed out that Calle had a cameo role in 2014 Russian action film Black Rose playing the role of "bank customer." Black Rose (13 percent on Rotten Tomatoes) starred Russian bodybuilder Alexander Nevsky and was produced by Czar Pictures, whose mission is, per its website, "active systemic participation in the international film projects to promote a positive image of Russia and Russian citizens in the eyes of the global viewers." The extent to which Czar Pictures has any actual association with the Russian state is unclear. Nevsky and Calle are buds on Twitter, and Calle has given Black Rose co-star Robert Davi space in his paper to tout the bona fides of Donald Trump.
As an opinion writer himself, Calle has voiced support for some actually good platforms, like legalizing cannabis and learning from the legacy of Japanese internment, though he's also written in favor of Putin's annexation of Crimea and charter schools, and produced this goofy WikiLeaks-centric "12 Days Of Christmas" parody for the Register.
He told the Times that he's "right-of-center" on economic issues but "very progressive" on social issues. Even if you want to take his word for it, the idea that he is the man who can revitalize Weekly's progressive spirit is not supported by his history.
---
And then there's Paul Makarechian, Orange County hotelier and son of Iranian-born billionaire Hadi Makarechian. Paul has donated to the campaigns of Republicans at a local and national level (a few thousand to Bush-Cheney here, a few thousand to Kevin McCarthy and Rohrabacher there), and Hadi gave over $500,000 to Arnold Schwarzenegger in direct money and support for ballot measures. In 2008, he worked for the Mitt Romney campaign and threw Romney a $1 million fundraiser at one of his hotels.

The Makarechian family was rewarded for their patronage, as Hadi was appointed to the University of California's Board of Regents in 2008 and one of his companies got a slice of a $2.3 billion sale of state buildings. Before the Iranian revolution in 1979, the Makarechians were ultra-wealthy elites friendly with the American-installed Shah, and their real estate and construction firm helped build military bases for the U.S., in addition to taking on other projects for the Shah. "In terms of wealth and lifestyle, our lives were regal in a way that is difficult for native-born Americans to really understand," he once bragged.
In addition to their diverse real estate holdings, the Makarechian network owns something called Gen Next, a rather opaque organization "of successful individuals dedicated to learning about and becoming engaged with the most pressing challenges facing future generations." Membership costs $10,000, although it's not really clear what that membership gives you (Calle's LinkedIn account states he's been a member for 11 years.) One of their "core issues" is education, where they've taken a decidedly pro-charter stance. Aside from their standard business and innovation activities, Gen Next has been involved in bankrolling the Quilliam Foundation, and they've provided Quilliam with more than $800,000 as of 2013.
The Quilliam Foundation's stated mission is to combat violent extremism, and it's buddied up with the British and American governments. In reality, their operations are far more opaque than that: They've been accused of "anti-Muslim extremism" by the Southern Poverty Law Center for the apparent equating of all Muslims with violent extremists; former director Chad Sweet worked for the Department of Homeland Security, the CIA, Goldman Sachs, the Heritage Foundation, and he now works for some extremely shady people accused of being involved in domestic spying; and strangest of all, there were some vague connections reported by Alternet between Quilliam directors and the Saudi-based al Rajhi Bank, which the CIA characterized as a "conduit for extremist finance."
None of which is strictly relevant to the Weekly's operations as a paper. But to take Calle's word that the paper will maintain and even strengthen its historically progressive voice would be to ignore the immense power structure that's propped up the businesses of many of the L.A. Weekly's owners and their business ventures. The corporate backing of a media outlet is never invisible to their coverage, and many former staffers suspected that the paper would be used as a mouthpiece for the sorts of right-wing ideas espoused by many of its investors. Calle also said that he and his investors didn't care about seeking a profit, which leaves you wondering: Why else a group of powerful rich guys with right-wing tendencies would buy a paper?
---
The Village Voice printed its final paper this year, as did the Houston Press. Seattle's The Stranger cut back to biweekly, the Baltimore City Paper is dead, and Orange County legend Gustavo Arellano left the OC Weekly earlier this year after refusing to cut his staff in half. Alt-weeklies have been dying a slow death for a decade, and the number of people who work for local newspapers has declined precipitously over the last 15 years, from 412,000 in 2001 to 173,709 as of September of last year. "You need a genius to succeed," L.A. Weekly's Weiss told me. That anoxic climate for local reporting means that fewer important stories will be unearthed and forced into the national consciousness. There is a cycle in media: Local reporter uncovers something, national outlets aggregate, contextualize, sometimes add further reporting, and eventually a trend emerges. Consider what our understanding of the opioid crisis would be without unsparing work from outlets like the Pulitzer-winning Charleston Gazette-Mail.

Without that first step in the process, you simply won't hear about as many important stories that you should be aware of. The monoliths can cover just so many stories and from so many angles. A richer media environment benefits everyone, while a smaller and dumber one only benefits the rich and powerful, who, without sufficient oversight, can get away with whatever chicanery they want. At its best, L.A. Weekly filled this sort of niche admirably. Whether they will continue to do so is an uneasy proposition.
The narrowing scope of how many stories can be told and who gets to tell them is not the only reason to be concerned with the future of media. Newspapers, for all the glowering praise heaped upon them, also have been a cudgel of those in power to warp public opinion in their favor since the days of William Randolph Hearst. The last year has seen a disturbing resurgence of that notion. The Koch brothers now own Time Inc. and its many outlets. Gawker Media (the former parent company of Deadspin) was shut down by billionaire Peter Thiel. Sheldon Adelson bought the Las Vegas Review-Journal. Ricketts murdered his media group because he was scared of unionized labor. The idea of a "liberal media" is a convenient falsehood that ignores a very scary fact: The rich can get whatever coverage they want, including media dominance, by sheer force of wealth. What's happening at L.A. Weekly isn't unique. It's happening everywhere.
Since the sale, L.A. Weekly has mostly published stories that were already in the pipeline, as well as a (well-written and adversarial) piece by Aron and a few other small stories. They posted a stunningly tone-deaf tweet calling for unpaid contributors and passionate "Angelinos," which was deleted quickly after they were mocked for misspelling "Angelenos." Their semi-dormant Twitter account is also mysteriously racking up a host of very fake-looking followers (who seem to be fond of the retweet button), and the paper's only coverage of the rampant fires sweeping through Southern California as of Monday afternoon was an accidental tweet.

In an interview with a local radio station, Calle said he wanted the paper to be "edgier," and named the fetish scene as something they could be doing a better job of covering. In an early interview, new co-owner Steve Mehr said that L.A.'s cultural scene was lacking, which baffled former staffers. A source familiar with the transition told Deadspin that one new owner did not know what a screenshot was, and "Not only did they not know how [to take one], they literally didn't know the technology existed."
"I think they think they understand Los Angeles, but they absolutely do not," said Spiers. "Go tell Brian Fucking Calle to go to jail to visit Drakeo," Weiss said.
Aggrieved former employees are not the only ones mad at L.A. Weekly. Ava DuVernay, Mark Ruffalo, and Seth Rogen have all voiced their support for L.A. Weekly, and thanks to a scorched-Earth campaign led by Weiss, advertisers have begun to pull out of working with Calle's Weekly. An internal email obtained by Deadspin showed that Weekly management was dealing with the issue of advertisers fleeing last Monday, though Calle denied they were having problems. No matter what he told the Times, there are issues. Berkeley Law School dean Erwin Chemerinsky planned to invest with the initial group but has since withdrawn his contribution, telling the Times, "Many issues have arisen and I simply don't have the time to be involved."
The Weiss-led #BoycottLAWeekly movement quickly picked up considerable steam and over a dozen sponsors, such as Amoeba Records, Angel City Brewery, and Mello Music Group have pulled ads. Weiss is maintaining a spreadsheet and actively encouraging readers to show Calle who he's angered. "I don't think they knew who they were messing with," he said. An email sent out to potential freelancers obtained by SPIN blamed ex-writers for "spreading false information based on their own assumptions rather than facts." Calle and the new owners have reportedly also retained the services of Wikipedia-editing, accused abuser-representing PR firm Sunshine Sachs.
But the campaign is working. Several freelancers have declined to continue working with the L.A. Weekly, including Henry Rollins, though Lina Lecaro wrote a long piece for the O.C. Weekly on why she'd give Calle a chance. Two days after beginning the campaign L.A. Weekly officially canceled Sip N' Sweets, an upcoming event, after scores of advertisers pulled out. Los Angeles' NPR station KCRW also decided to end their partnership with the paper, as did the famed Ace Hotel. Weiss's ultimate goal? For Calle to relinquish control over the paper, sell it back, and slink away. Weiss said he doesn't want to control or edit the paper, he just wants a crowdfunded or collective ownership model. Something like the "Green Bay Packers but for an alt-weekly."
Weiss and others held a protest and funeral, complete with a casket, outside the Weekly's headquarters last Friday. Amusingly, the L.A. Weekly Facebook page live-streamed the funeral, and many commenters seemed to be learning of the sale and getting pissed off via the L.A. Weekly's official feed. No matter how many people are mad at them, the new owners haven't buckled in the face of pressure. Lecaro said she got the sense from her conversations with Calle that he really wanted to capitalize on the forthcoming weed boom, a theory espoused by former staffers I spoke with as well. Calle told CityLab this week that he and his group bought the paper to save a beloved institution, and that he's moving up to L.A. from Orange County, a move that would suggest that he's not ready to give up control.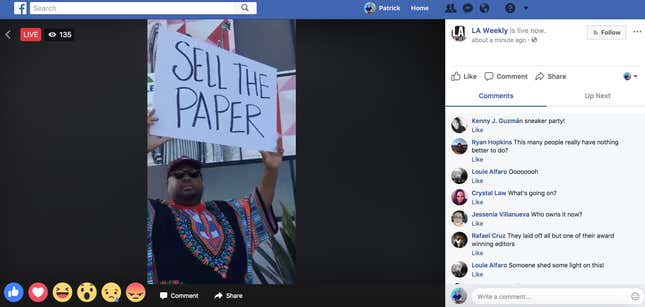 Late last week, Aron was named interim editor-in-chief of the paper, an appointment that he only took after getting the new owners to agree to hire back two former staffers. He stated plainly that he will have full editorial control over the Weekly, and shortly after promoting Aron, Calle and Welch released a lengthy statement apologizing for "missteps in the transition of new leadership at L.A. Weekly," supporting their employees' desire to re-unionize, and blaming "false narratives" for the severe backlash that they've faced. They wrote that they wanted to "create an environment of transparency," which is admirable but also vexing, given that the identities of several new owners still have not been revealed (people familiar with the sale have expressed doubt that Calle put up most of the money used to buy the paper). Someone skeptical of Aron's claims of editorial independence asked what would be stopping the owners from simply going over his head. He replied, "nothing. but if they do i will quit. just asking that you give us a chance."

Calle and the new ownership group at L.A. Weekly have put themselves squarely in the worst possible position, although it's not hard to see a scenario where this sale never stoked passions the way it did. Nine people were laid off, which, in a vacuum, is not many. "I didn't expect anyone to give a shit," said Spiers. Had they not acted so buffoonishly, the new owners could very well have quietly completed the sale and made the paper into whatever they wanted over time. That they operated with the delicacy of a hippo eating a watermelon speaks to the contempt it seems they feel for journalism and the cultural life of Los Angeles.
"It's an open looting and the treasury is Los Angeles," Weiss said, "None of us are gonna take it lying down. As journalists now, we have to understand that there are more of us than there are of them, and we've taken that for granted for too long." Wolfe also made note that the outrage over L.A. Weekly's gutting wasn't merely about the layoffs. "This is not about us lamenting this old job, it's about us seriously worried about the city of Los Angeles. I hope people can understand that it's bigger than us, we're just kind of stuck in it."
Whatever the paper becomes under its new owners, it will not be the L.A. Weekly of yore. It is a small silver lining that the paper will, for now, continue to be published with a holdover at the helm, although at best, the version of the Weekly propped up by a skeleton crew and a swarm of freelancers will be a hollow version of its best self, even if legalization begins a new a gold rush. The L.A. Weekly is not technically dead, but it doesn't feel like the L.A. Weekly anymore. This industry is unsparing like that, and it creates ghosts faster than ever now. Los Angeles deserves better.