Every morning, the fine folks at Sports Radio Interviews sift through the a.m. drive-time chatter to bring you the best interviews with coaches, players, and personalities across the sports landscape. Today: Pitino regretted leaving Kentucky for Chauncey Billups.
Rick Pitino joined 790 The Ticket in Miami with Dan LeBatard, Stugotz and Stan Van Gundy to discuss being excited for his son, Richard Pitino, being a little surprised by the University of Miami's success this season, his opinion on the best team in college basketball right now, his regrets while coaching in the NBA and the potential that Tim Duncan could have had in changing his coaching career.
How envious are you of your son that he is living in Miami and you are not?
"You know, I am very envious. I'm struggling in Louisville right now and he gets to - I am actually - we are practicing at 6:15 in the morning tomorrow and then we are flying, a bunch of us are flying into his last home game against Arkansas-Little Rock. I am really, really excited for him. Miami is suddenly a hot bed for pro and college basketball and I never thought 15-20 years ago I could ever say that. It's really exciting."
Have you watched the University of Miami play? If so, how surprised are you by their success?
"Well I'm a little surprised, but not a whole lot because they have a veteran ball club. I didn't know if Kenny Kadji could become this good of a player. I didn't know the point guard would be one of the premiere point guards in the nation. Of course I knew of Durand Scott and the big guy, but they are a legitimate national-championship contender. They have a veteran coach with a lot of experience. They have a veteran ball club and now they are packing a strong home court. Five years ago they could play a Duke or Virginia and it would only be three-quarters full and now it's just a hot bed for a great, great home atmosphere."
How many teams do you think are better than the University of Miami right now?
"Well two weeks ago I said the best college basketball team is Indiana. They have the best execution. I think they have the best player in college basketball in Victor Oladipo. That was two weeks ago, and now after last night's game it's probably true, but that being said I think if Indiana played Miami 10 times on a neutral court they may win six and Miami wins four, or five and five. They are very, very close. They both have a great inside attack. They have outstanding wing players and great guard play, so it's anybody's ball game. Those two teams are outstanding. I could see either team cutting down the nets and I hope we are one of those teams that could be next."
G/O Media may get a commission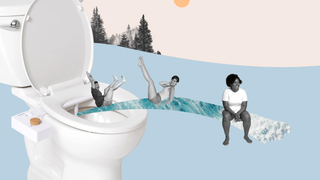 17% off
Tushy 3.0 Warm Water Spa Bidet Attachment
Do you regret at all going to the pros?
"No. I loved going to the Knicks because we won the Atlantic Division championship. We went from winning 21 games or 19 games to winning 52 games in a short period of time. I loved coaching Patrick Ewing and Charles Oakley and all those guys. I think I do regret leaving Kentucky because I took over a team with 15 wins banking everything on the Tim Duncan lottery, and once we didn't get Tim Duncan I realized that leaving Kentucky was not a good move."
If you would have gotten Tim Duncan how would it all have been different?
"Well it's the same thing with the Knicks and Patrick Ewing. I'm winning 52, 55, 57 games and I am a pretty good coach trying to attract other free agents to play with them. Because Tim Duncan not only has the game, but he has the attitude and he played for a no-nonsense coach in Popovich, and not to mention I think he made Gregg Popovich one of the premiere head coaches in the history of the NBA and vice versa. When you get a Tim Duncan, you are getting something really, really special, not only as a basketball player, but with an incredible attitude. Very similar to coaching Patrick Ewing, so I was blessed to have Patrick and Mark Jackson and Charles Oakley. They were great for me. They did whatever I asked them to do and we averaged 116.8 points per game and I had a lot of fun coaching those guys."
This post, written by Steven Cuce, appears courtesy of Sports Radio Interviews. For the complete highlights of the interview, as well as audio, click here.
More from Sports Radio Interviews
• Chris Paul says the regular season doesn't matter when the playoffs come around.
• James Shields thinks the Royals look a lot like the Rays seven years ago.
• Tim Lincecum cutting his hair is no big thing, he swears.