In January, Bingham Ray died. A lot of moviegoers probably wouldn't have recognized his name, but if they loved independent film in the 1990s, they knew his work. The co-founder of October Films, Ray had helped distribute movies by Mike Leigh (Life Is Sweet, Secrets & Lies, Topsy-Turvy), Lars von Trier (Breaking the Waves), David Lynch (Lost Highway), and others. Even after October Films folded, Ray was seen as one of the champions of smaller films that might not have made it to the U.S. without his help. During the '90s, the October logo in the titles was a hell of a stamp of approval.
On Friday, Adam Yauch died. He had a more famous name than Ray did, and most of the obituaries have focused on his 33-year career with Beastie Boys. But he was also one of the two men (with THINKFilm executive David Fenkel) who founded Oscilloscope, which had started distributing art-house features and documentaries in 2008 with an October Films-like sense of what was good.
One of its first releases was the well-reviewed hoops documentary Gunnin' for That #1 Spot, directed by Yauch himself, but Oscilloscope was more than a vehicle for his own filmmaking ambitions. In the fall of 2008, it put out Wendy and Lucy, an intensely small-scale drama from director Kelly Reichardt (Old Joy) that starred Michelle Williams as a young drifter driving to Alaska with her dog to find work, only to have her car break down in Oregon. The plot was simple—she gets pinched for stealing and her beloved dog goes missing—but it was an utterly beautiful film, cementing Williams's status as a major actress. It was the sort of movie that demonstrates why indie distributors are so valuable: Too tiny a film to attract even the art-house divisions of the studios, it needed a smaller company willing to put it out, and Oscilloscope did. Wendy and Lucy was such a moving, life-changing experience for me that the company's distinctive opening-credits logo instantly became one of my favorites.
Oscilloscope continued to put out quality work. Yauch was a socially and politically conscious Buddhist—who else was daring and articulate enough to speak out about bigotry against Muslims at the MTV Video Music Awards in 1998?—and Oscilloscope quickly became a respected distributor of thought-provoking documentaries like Burma VJ: Reporting From a Closed Country and powerful issue-driven films such as The Messenger. But it wasn't all weighty fare: Oscilloscope oversaw the DVD release of the terrific Banksy documentary Exit Through the Gift Shop and handled the theatrical roll-out of last year's Bellflower, the vivid, violent cult film about unrequited love. In the last few years, its best films were as good as anyone's: Meek's Cutoff, We Need to Talk About Kevin, and Rebirth, possibly the most penetrating documentary about the lingering effects of the 9/11 attacks.
But Yauch wasn't just a figurehead for the company; he passionately cared about his films. Evan Glodell, the writer-director-star of Bellflower, commented on how involved Yauch was in helping get the film ready for release, including ponying up extra money to correct sound issues at the last minute. "He immediately seemed like a very kind, genuine person," Glodell recalled about first meeting Yauch. "[I]t was one of those things where I know this person cares more about the art and what we're doing than anything else. When someone is coming from that place, there's no way something bad can happen." Oscilloscope's presentation always felt inviting, rather than portentous. Just look at the posters for We Need to Talk About Kevin and Meek's Cutoff. They made the art house feel like an event.
G/O Media may get a commission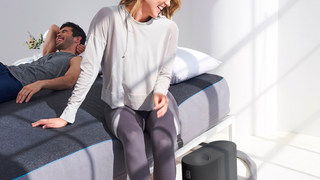 Eight Sleep Pod Cover
While Yauch didn't do it alone, Oscilloscope's temperament seemed to spring from him, a gentleman who had become famous first for making juvenile raps on Licensed to Ill but realized he had to grow up and evolve. That's why it was impossible to take seriously some people's complaints that Bellflower was misogynistic: Yauch, who renounced the Beasties' early sexism by rapping, "I want to say a little something that's long overdue/The disrespect to women has got to be through" on "Sure Shot," would never have released such a movie if he thought it was anti-female.
In 2012, Oscilloscope will release the LCD Soundsystem farewell concert film, Shut Up and Play the Hits, the startling Andrea Arnold adaptation of Wuthering Heights, and 28 Hotel Rooms, one of the best films at this year's Sundance. Adam Yauch's death probably means the end of Beastie Boys, which is a shame, but hopefully Oscilloscope will carry on for years to come. Indie distributors pop up and then vanish so quickly that we need a place like Oscilloscope to live on, even if its guiding light is no longer with us.
Grierson & Leitch is a regular column about the movies. Follow us on Twitter, @griersonleitch.