It is July 23, and 18 teams either in a playoff spot or within five games of one. They must decide by a week from tomorrow whether to go for it, or to reload for the future. If you think it's far too early in the season, you have company in MLB's new commissioner.
The July 31 date was set way back in 1986, when just four teams made the postseason. Now it's 10. (Here's a fun history of the deadline.) The addition of a second wild card in each league has made it even harder for teams to figure out if they are buyers or sellers at the non-waiver trade deadline. Rob Manfred says that if the playoff format is going to change, maybe the deadline ought to change with it.
"I think that the July 31st deadline is something that we may want to revisit in the context of the revised playoff format," Manfred said Wednesday. "Obviously when you have two additional opportunities to be in the playoffs, you have more teams in the hunt and they may want to wait a little longer before they make decisions."
Should the Rays upgrade their offense, or the Orioles their rotation, at the expense of their farm systems? With each 3.5 games back, it's a tough call. Should the Tigers, 3 games out, blow things up? Should the young Cubs go for it now? These teams would love some more clarity before deciding to make trades. In-between teams usually end up standing pat.
It'd be good for fans, too. Trades are fun, and MLB has historically had the most and best player movement. But it feels like the NBA and NHL have caught up in terms of big trades and deadline-day excitement.
G/O Media may get a commission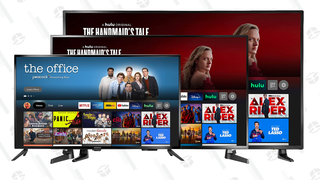 Up to 44% off
Prime Early Access - Insignia Fire TVs
I can't see any real drawback to a change to the league calendar that would encourage more moves. Manfred floats this one, which I don't buy:
"On the other hand, you've got to remember, we want teams that the core of which have been together for the year playing in the postseason," he said. "So you have to just balance those two issues, I think."
Was the Giants' World Series win somehow less satisfying because Jake Peavy had come over at the deadline? Would this year's Royals be less valid if they slotted David Price or Johnny Cueto into their rotation?
A trade deadline was originally put into place in 1917, at a time when free agency didn't exist and owners—especially the financial have-nots—wanted to limit any player movement as much as possible. That's no longer an issue, especially now that transactions are viewed by smaller-market teams as opportunities to level the playing field. Push the trade deadline back. Give us more trades.
[AP]