Sports babies, generally, are good. A replacement-level sports baby is still one who is adorable and funny and gloriously chubby-cheeked, and a sub-replacement-level sports baby is still probably going to make you aww at least once. But a truly great sports baby? A truly great sports baby is on another level, and White Sox second baseman Yoan Moncada's son Robinson is one such sports baby.
Here he is in a beautiful photo set released by MLB this evening, showing off his budding baseball prowess:
Here he is uttering delightful cries of "Papi did a walk-off!" last week. (Bonus points here to Moncada's older son for the pithy contribution of "Astros suck!")
G/O Media may get a commission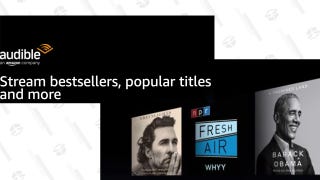 FREE
Audible Premium Plus 3-Month Free Trial
Here Robinson is engaging in an improvised game of ball with his dad in a hotel lobby, including Gatorade bottle as bat and an ambitious slide at the plate even after he was seemingly tagged out:
Behold him expanding his athletic endeavors to golf:
And behold him eating a Twinkie:
Further evidence for his status as the best of the sports babies can be found in video of him imitating a Hawk Harrelson home run call or this photograph of him making a wish on a dandelion or, I suspect, literally everything he has ever done. (This bat flip!!) All hail the reigning king of the sports babies.