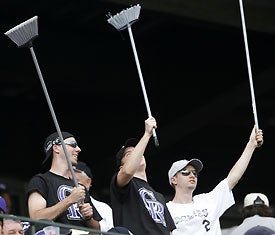 Notes on a day in baseball:
• Pete Coors Talks Some Smack. The Yankees ventured into the Rocky Mountains as the hottest team in baseball, and were chased out by people with brooms. Colorado took a 4-3 victory at Coors Field on Thursday to complete a three-game sweep, and New York's resurgence is officially on the DL. Rodrigo Lopez got the win (with relief help from Jorge Julio, who got him out of a jam in the sixth) as the Rockies won their seventh game in eight tries. Matt Holliday knocked the Roger Clemens out of the game and gave the Rockies a 3-2 lead with an run-scoring single in the fifth.
• With Hugh Beaumont, Chad Billingsley, Tony Dow, And Jerry Mathers As The Beaver. Canada's own Russell Martin had a two-run double in the Dodgers' six-run eighth and Chad Billiningsley got the win, 8-4 over the Blue Jays.
• Bring On Griffey! Felix Hernandez — remember him? — shut out the Pirates for eight innings on nine strikeouts, and Jose Lopez doubled in two to lead the Mariners took a 3-0 win.
• Now That This Sammy Sosa Business Is Over. The Rangers got back-to-back homers from Victor Diaz and Adam Melhuse, a two-run single from Marlon Byrd, and a game-winning single from pinch-hitter Frank Catalanotto in the bottom of the ninth to beat the Cubs 6-5.