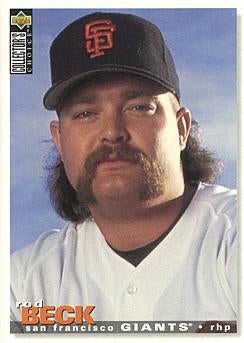 Former Major League closer Rod Beck has passed away at the age of 38. He died yesterday in Phoenix, and the cause of death, at this time, is still unknown. Beck closed for the Giants, Cubs, Red Sox and Padres, and amassed 286 career saves.
More details as they become available...
(UPDATE: More from the East Valley Tribune, via Sports by Brooks)
Phoenix police said they were called to a northeast Phoenix home for a call of an unknown death and discovered a person dead and alone.

Police said the prominent person has two young children who are away at camp, and until the kids are notified, the person's name won't be released.

No foul play is suspected, police said, but authorities are investigating the death since the person was alone. The cause of death will be determined by the medical examiner.
Rod Beck, R.I.P. [ChicagoSports.com]
Prominent Valley figure dead; cops won't say who [East Valley Tribune]
Rod Beck Death Followed Cryptic Arizona Report [Sports by Brooks]
R.I.P. Rod Beck 1968-2007 [SOX & Dawgs]