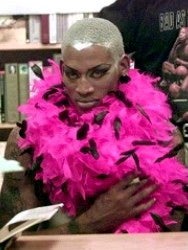 I always thought the problem with the Harlem Globetrotters was they didn't push the envelope enough. Sure, they'd pull down the referee's pants, but they'd leave his underwear on. What's up with that?
Fortunately, the Globetrotters have a game scheduled for NBA All-Star weekend that could be significantly more fun than anything they've done against the Washington Generals. (Who are now called the New York Nationals, but that's another story for another time.)
The Globetrotters will play Dennis Rodman's Bad Boy All-Stars Feb. 17 in Las Vegas as the second game of a doubleheader. Rodman is still working out the details of the Bad Boy All-Stars roster, but I'd like to see Eddie Griffin for the way he'd change the Globetrotters' pull-down-the-pants routine, and Awvee Storey in case the Globetrotters take their trash talking too far.
Rodman, Vegas, Bridal Gown? [Los Angeles Times]