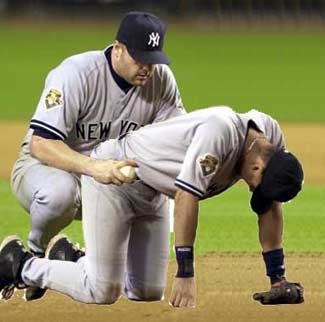 More and more embarrassing details about the career of pitcher Roger Clemens, as the New York Daily News today reports that the alleged 'roid user and serial philanderer also used something else to help keep him on the top of his game — Viagra.
According to the Daily News, a "source" close to the Yanks' clubhouse alleges that Clemens used to keep the popular shlong stiffeners in a GNC vitamin bottle inside his locker. And Clemens isn't the only one. BALCO fink Victor Conte tells the DN that all of his athletes took it (included in his stable were Giambi, Bonds and Marion Jones) because of the pill's performance-enhancing powers.
The trend of athletes V-popping is so bad that World Anti-Doping Agency is apparently looking into if the possibility of putting Viagra on the list of banned substances in athletics.
Sadly, Rafael Palmeiro, one-time Viagra pitchman and baseball pariah, has yet to be quoted anywhere in this story. This whole thing probably doesn't do anything to help his own Hall of Fame chances.
Source: Roger Clemens, host of athletes pop viagra to help onfield performance [NYDN]