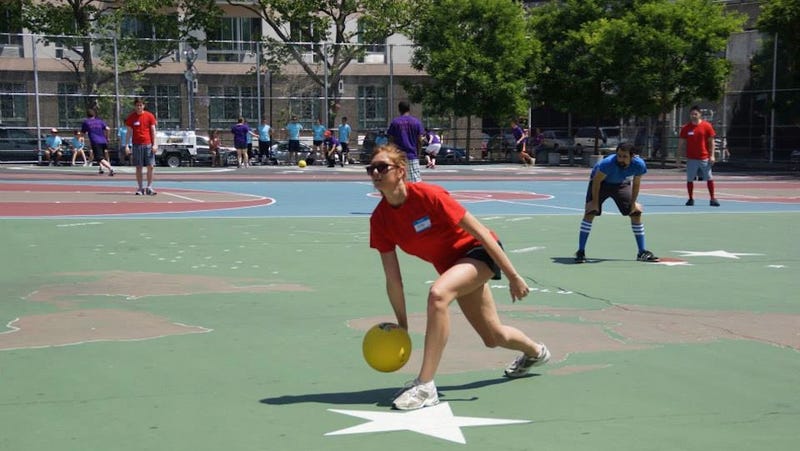 An adult kickball league said to be a worse menace than the gang violence and heroin epidemic that once plagued New York City's Lower East Side has finally, mercifully been brought to heel.
DNAInfo reported earlier this week that one woman, Karen Gehres, has led a crusade of a few dozen LES residents in a neighborhood of over 150,000 against the kickball games that were a blight upon the neighborhood. Gehres, along with her husband, claimed that the endless good-natured ribbing and jovial home run celebrations combined with the floodlights and the deafening thrums of the generators that powered them were all too much to bear. She'd lived in the neighborhood for over 30 years, and apparently, she's slowly become overwhelmed by how difficult it was to find peace and quiet in America's largest, loudest city.
"First, it started off two or three years ago with a few grown-ups playing," explained Gehres' husband Phil Penman, 35. "Then, slowly it became stadium lighting, adults screaming their heads off, and it got later and later. Sometimes they play until 10 or 11 at night."
A tragedy, no doubt. But Friday: triumph.
According to DNAInfo, the LES and scourge that is intramural sport reached a resolution. The league, which play on Tuesdays, Wednesdays, and Thursdays agreed to finish the games at 9 p.m. They also agreed to cancel their Saturday games, for some reason.
"Imagine trying to put your children to sleep when there are people screaming out your window," another LES resident, Francis Didonato, said to DNAInfo. Didonato also has claimed to live in the neighborhood for over 30 years, but apparently, noise on the street is a shock to her, as well. She continued, "This has been a vibrant place where children have played during after-school hours. We feel very strongly when this is taken away for private use."
The Notwork Network Society, which runs the kickball league, pays the schools for the use, as is their legal prerogative. No matter.
In the face of danger and uncertainty and against what should've been longer odds, Gehres was able to find the strength to stare down a gaggle of young professionals winding down by engaging in light physical fitness and see the crisis through. Gehres says she's received threatening emails and phone calls since the story was published. We are incredulous, but if true, more power to her.
Photo Credit: Notwork Network Society on Facebook
[DNAInfo]