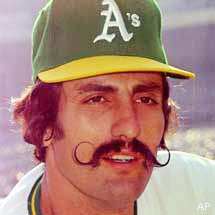 Far be it from us to cast aspersions on Hall of Fame relief pitchers who could offer mustache rides to an entire cricket team, but we find this Craig's List ad apparently posted by Rollie Fingers for a commercial he's filming.
Rollie Fingers Hall of Fame basball player is looking for a 12 or 13 year boy to star in a short video with him to be shown on Youtube and other places. This is intented to be a FUNNY video.
Yeah, you see, now we know why they call him "Fingers."
By the way, Rollie also has a pretty boring blog.
Who Wants To Be A Movie Star ... Well, Almost [Sure Putting Golf Tips]
Rollie Fingers Blog