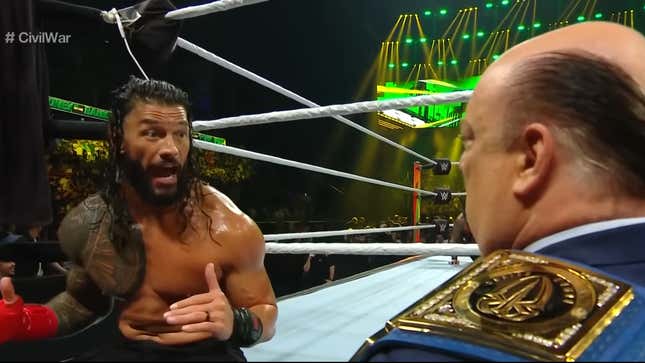 You know a WWE match is a big deal when it main events over the type of match the Premium Live Event is named for. You would almost never see either of the Royal Rumble matches not take the main spot on that show, and to a lesser extent the same goes for Money In The Bank. That the Bloodline match with Roman Reigns and Solo Sikoa on one side and the Usos on the other taking the prime spot on Saturday, it's the latest and purest example of how that storyline has lorded over the entire company for a couple years now.
Ava Raine: Forging her own path | Deadspin Dropkick
And it certainly deserved to, and showed why. Reigns's dominance both over the company and within his own family, and simply pushing too far to lose control of the latter, has been as well-crafted a story as one can get. The match itself might have started a touch slow so that Reigns could soak up the heat and hate from the London crowd, and hit all the normal Reigns beats, but crescendoed brilliantly that saw Reigns pinned for the first time in three years. It was also the perfect argument as to why Roman can never go back to being a face, as has been suggested by him and others around WWE.
Because quite frankly he's so goddamn good at being at the center of a typhoon of boos and bile. At the center of every great heel is a hole they can't see or simply won't recognize. The entire crux of the start of Reigns's heel run was the entitlement he received as a face that never worked before. His constant placement at the top of the card without ever really earning it, the fans' rebellion against that, and his futile, or cloying attempts to win the fans over. If the perception was that he was always taking the shortcut as the company's lead face to the top of the card, it made the most sense that as a heel he would embrace doing so, and turn that fans' distaste to his use. Now his constant placement in main event after main event wasn't something to overcome, but his raison d'etre.
But the hole at the heart of Reigns's now three-year run as champion has always been that he can't keep control of everything around him other than through sheer force, and that always has a definitive run-time. And he does so because deep down, he knows it's so fragile and only kept alive by the work of the Usos and Sikoa, but he can never admit to that. It's what chased Sami Zayn out of the Bloodline, and it's what chased his cousins the Usos out of it as well. The Bloodline started with Roman beating Jey Uso twice, so badly to the point that a still injured Jimmy had to step in to stop it, and getting both him, and his cousin under Roman's guise simply by acquiescence. Roman's grip was always loose, Leia's prophecy to Vader — "the more you tighten your grip, the more slips through your fingers" — come to life. The looser Reigns's grip got, the more he has deluded himself. Reigns's arrogantly walking back into a double superkick from the Usos on Smackdown a couple weeks ago that set up this match was all of that distilled to a single moment — Roman unable to recognize what was in front of him and that he would simply bend his minions back under his wing without ever considering he'd already lost.
Saturday's match was that to a tee. Roman isn't the best wrestler in the world, or anything close to it, but there may be no one better at orchestrating an atmosphere to his whims than he. During any of his matches' heat section, when he's dominating and woofing at the entire arena or stadium, it feels as if there is no one more important in the world than Reigns. It's not done through smarm as much as other classic heels, but sheer bravado, and physical domination. Reigns just looks right being overpowering and undentable. He has a unique ability to time every move between his strutting and egging on the crowd.
Of course, disappointingly, WWE likes a formula, and so we know with every Roman match there will be a ref bump, shenanigans, and then he wins. So it was in this match, but it contained enough callbacks to the entirety of Reigns's time as champ that fans could get by it for the most part. From Jey low-blowing him to get out of a pin that the ref couldn't see, which Roman did to him in one of their matches, to the double super-kicks that led to this match, to the stacking of Jey and Jimmy just as Daniel Bryan, and Edge were at Mania in 2021, it at least rewarded fans for paying attention.
But when it all didn't work, when the Usos kicked out of the stacked pin, and Reigns's world and ways collapsed around his ears, there certainly hasn't been a more poignant moment in WWE for a long while. That hole within Roman suddenly was staring him in the face. Not only could he not control everything as he had done through his sheer force, but the realization that his very squeezing of his own family is what created the Usos' determination to overcome him. Roman had bitten himself in the ass, and he had no answers. The horror on his face when all this hit, it was expertly played.
Reigns can now go supernova heel, with a likely match against either of his cousins to headline Summerslam later this month. The Detroit crowd will be baying for either of them, and whether Reigns wins, or loses he once again will be the ultimate enemy. Reigns simply doesn't have the gears to be anything different than this, which is fine! He's so good at this, simply trying to bend the entire company to his will because that's how it's always worked for him. He's been the chosen one for so long he can't possibly conceive of a world where he isn't. Even as he creates his biggest rivals, be it Zayn or his own cousins, his blindness, or ignorance of reality is what makes him.
Sure, WWE will try to make him sympathetic. At some point he'll be abandoned by Sikoa too, and then Paul Heyman, and he'll be all alone and that's probably where he'll be written to realize the errors of his ways and try to become "whole." Perhaps the thinking will be that he's now had the hard miles earned to win the crowd over that he didn't have during his face-run after the breakup of the Shield.
But he's too good at this. Trying to outrace the void inside him, or force it into submission, it's what's made him the biggest star. He doesn't need anything else.
Follow Sam on Twitter @Felsgate.