Until he got swept away by the recent round of layoffs, Ron Jaworski dissected Xs and Os for several of ESPN's NFL-related programs. Those gigs gave him a prominent platform from which he could draw heavily on his knowledge as a former NFL quarterback. Jaworski still loves to boast about how much tape of NFL games he watches—and there's no reason to doubt those claims. But he also seems to have a habit of passing off the work of another professional NFL tape-watcher as his own.

Last week, Jaworski appeared on a podcast hosted by two other ex-ESPNers, Ed Werder and Matt Mosley. As the conversation wound its way through the merits and demerits of Colin Kaepernick, Dak Prescott, and Carson Wentz, Jaworski eventually settled on a data point known as "interceptable passes" to explain something about the accuracy of all three quarterbacks.

"You go through the Colin Kaepernick tape from a year ago," Jaworski said around the 22-minute mark of the podcast. "Three hundred thirty-one passes. Only seven of those balls were interceptable, as opposed to what I was talking about with Wentz at 31 and Dak at 13. [Kaepernick] only had seven interceptable balls, so he's not a guy that is loose with the football and turning the football over and over and making interceptions."

This is good information, the kind of quantifiable factoid that allows the casual football fan to gain a better understanding of a quarterback's true ability. As the name suggests, interceptable passes are any passes that ought to be intercepted because of some fault of the quarterback, but aren't. Compiling interceptable passes, then, obviously requires watching (and re-watching) tape of every pass a quarterback throws in a given season. Which is exactly what Football Outsiders analyst Cian Fahey does. Interceptable passes is Fahey's stat, and he has published his findings from the 2015 and 2016 seasons in a pair of books, most recently Pre-Snap Reads Quarterback Catalogue 2017. The stat belongs to Fahey, which means not only that Fahey invented it, but that he is also the only one tracking it.
On Werder's and Mosley's podcast, Jaworski left open the possibility of doing more work for ESPN in the future, and emphasized what he characterized as the uniqueness of his Xs and Os analysis:
"I still maintain my office at NFL Films, and the film wonk that I am I try to give the audience something that they normally don't get. It may be a little bit drill-down football, but I think there's far too much football on TV that doesn't really scratch the surface, and I try to drill down and give the viewers and the listeners something that they don't get anywhere else. Not saying I'm right or wrong, but I certainly am different."
G/O Media may get a commission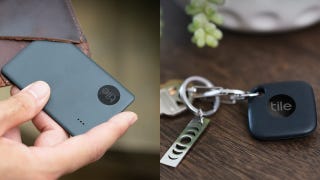 Up to 35% off
Tile Item Trackers
The podcast was not the first time Jaworski has referenced interceptable passes without giving Fahey credit.
Last year, as the Jets spent the offseason playing the world's saddest game of chicken via their contract standoff with Ryan Fitzpatrick, Jaworski appeared on ESPN to rip into the deeper reality of Fitzpatrick's 2015 season:
"I have looked at every pass Ryan Fitzpatrick threw last season. Stats are one thing; you mentioned 31 touchdowns, Jets record, blah blah blah ... When you look at the tape, you look at the stats, you see 15 interceptions. You look at the tape, you see 30 balls that should have been intercepted."
Fahey's Pre-Snap Reads Quarterback Catalogue 2016 credited Fitzpatrick with 30 interceptable passes in 2015, second only to Carson Palmer's 31.
Interceptable passes, like any other stat that requires watching tape, is a subjective unit of observation. (Is a ball that glances off a defender's fingertips "interceptable"? It's the judgment call of the person compiling it.) Two different people watching the same film of the same quarterback can and probably will come up with different numbers. That Jaworski is using a statistic Fahey created and the exact same numbers Fahey does is a good sign he's citing Fahey's work, without, you know, actually citing it.
Why does this matter? Jaworski himself answered that question when he told Werder and Mosley his goal is "to give the audience something that they normally don't get." The stats guys and the tape-watchers make their living by offering customized numbers and analysis. People watch Jaworski's tape breakdowns because he's likely to reveal something his viewers didn't see or even understand. Likewise, people buy Fahey's QB catalogues because those books offer information that can't be found elsewhere. Fahey's livelihood depends on readers understanding this. Using his stuff without letting potential readers know where to find it is a big deal.
I reached out to Jaworski to ask about why he hasn't credited Fahey for what looks like Fahey's work. Jaworski replied via text message:
Cian does a great job with his breakdowns and I have awesome respect for him. I do my own breakdowns and sometimes we are very close and sometimes a little different. Please give him all the credit in the world. He works very hard and diligently.
Clarification: This post has been changed to remove two uses of the word "proprietary" to refer to Fahey's stat. "Proprietary" has a legal definition that does not apply to the issue at hand here.