Have you been looking for a way to achieve maximum facial tone that doesn't make you feel so bored and tired? Isn't it time you had a way to be happy with your facial fitness without all the hassle? There have probably been dozens of scientists with degrees in science-related fields who have long argued that there is a connection between a fit face and a happy face. You've just never been able to have fun while getting the workout your face deserves. Until now.
This is the commercial for that magical cheek-muscle-strengthener-via-face-whisker thingy Ronaldo was pimping on a Japanese TV show last month. You remember. The commercial is great in that everyone seems to be having a good time with their propeller faces but, sadly, Ronaldo never actually uses the thing in the commercial. He just marvels at it.
Apparently, it's like a Shake Weight for your mouth, but more than that, it's the gift that keeps on giving.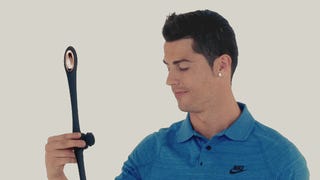 Come with me and learn the secret to facial fitness.