We knew a debate on the subject of dip would prove to be a contentious one. And boy howdy, was it ever! Within an hour of posting, a vicious
http://foodspin.deadspin.com/to-the-infidels-voting-pedestrian-guacamole-over-baba-g-151080954009403e76-acb5-4d2a-a26e-6b5771c5ca4f
had broken out,
http://foodspin.deadspin.com/how-did-it-take-me-this-long-to-recognize-that-you-are-151085254709403e76-acb5-4d2a-a26e-6b5771c5ca4f
, and colleagues were accusing one another of
http://foodspin.deadspin.com/get-out-of-my-face-you-communist-151081917309403e76-acb5-4d2a-a26e-6b5771c5ca4f
G/O Media may get a commission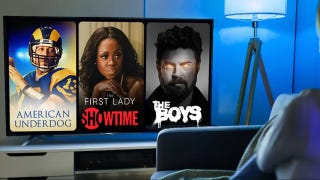 UNDER $1
99¢ Prime Video Channels
. (Maybe it's a good thing Pete Seeger isn't around to see this.) And it's only the first round of voting!
In addition to the quality carrying on to be found in the comments, a few items are also worth noting:
With the exception of the salsa division, the top seeds in each bracket advanced. Which is a shame, really, because we were pulling hard for a tzatziki upset. (Ranch had to be seeded as high as it was because AMERICA. 'MERICA. 'MURCA. WHATEVER.)(USA! USA! USA!)
With that said, COME ON AMERICA. Do not let Ranch go all the way. Have some damn pride.
The salsa division poses some interesting match-ups, and looks to be the one that could yield our Dip Playoffs Cinderella. Can Chipotle Salsa take it all?!?
The number 4 seed in the Creamy/Cheesy Division, Pub Cheese, took it handily over the 5 seed, Horseradish Dill Dip, as did the 5 seed in the Salsa Division, with Mango blowing Peach out of the water (off the tree?). In contrast, the 4 and 5 seeds in the Plantlife Division, Pinto/Refried Bean v. Black Bean, ran virtually neck and neck throughout polling, with Pinto/Refried eking out a narrow victory by a margin of just 733 votes.
Despite the aforementioned vocal commenter support, baba ganoush netted the second lowest overall votes, at 936 (8 percent), with only vegetable soup mix dip—which was pitted against perhaps the strongest #1 seed, the venerable onion dip—garnering fewer votes (840, or 7 percent of that poll's total votes). Sorry baba! Your consolation prize is being delicious.
Our condolences (not really) to Skyline Chili. Your consolation prize is being loved by people in Cincinnati.
Round 2 voting is open; you've got until Noon EST tomorrow (Thursday, January 30) to make your opinion known.
CREAMY/CHEESY DIVISION
PLANTLIFE DIVISION
SALSA DIVISION
MEAT/POULTRY/SEAFOOD DIVISION