Because no one reads the newspaper, and SportsCenter's anchors are too perky for this early in the morning, Deadspin combs the best of the broadsheets and internets to bring you everything you need to know to start your day.
• The Phillies swept after yet another complete game shutout, and Roy Oswalt channeled his inner Cigar Guy.
• Poor Brooks Conrad had "one of the worst playoff performances of all time," a distinction he held for a moment, then dropped.
• The Rays pulled even with the Rangers, and the series returns to Tampa, where the Seligy blackmailing of fans has begun in earnest.
• A college football team that isn't Florida or Alabama is ranked No. 1 for the first time since Nov. 2, 2008.
G/O Media may get a commission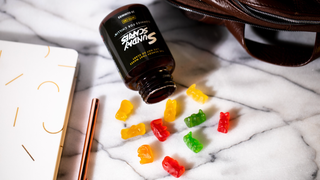 10mg CBD Gummies (22-Count)
• Let's all laugh at Texas Tech now:
• The crime dogs at The New York Times are super-pumped about these awesome new developments in the abridgment of athletes' rights.
• So maybe Charlie Davies wasn't the driver of the car going 125 mph. He says he was covering for Sochaux teammate Jacques Faty, and that the two had this little exchange right out of an old after-school special:
"I was like, 'Jacques, I don't think I can do this.' He was like, 'No, trust me, it'll be easy. If you don't, I'll go to prison and you'll be stranded here,'" Davies said.
• Darrelle Revis returns against the Vikings, which I'm sure will be the major storyline in tonight's game.
* * * * *
Good morning.