North Carolina head coach Roy Williams has previously demonstrated his complete lack of perspective on more than one occasion, but he still wants you to know that the Haitian earthquake was nothing compared to losing to Virginia at home.
This is an actual on the record quote that Williams gave to known journalist Stewart Mandel an entire room full of reporters. (Full video below.) Behold it in all its jackassery:
"Our massage therapist told me, 'You know, coach, what happened in Haiti is a catastrophe. What you're having is a disappointment,' " said Williams. "I told her that depends on what chair you're sitting in. It does feel like a catastrophe to me, because it is my life."
You heard that right. A 2-6 ACC record is a catastrophe—if it happens to Roy Williams. Remember, this is a conversation he had with his massage therapist. You know who I bet could use a massage right now? Evan Muncie. He was pulled from the rubble of a Port-au-Prince marketplace ... YESTERDAY. Twenty seven days after the earthquake struck. You know what his first words were? "Wait, they lost to Maryland? Holy shit, the Tar Heels suck balls!"
And if anyone is thinking of pulling out the old "that was totally taken out context!" nonsense, just stop. No matter how condescending your masseuse sounds when she reminds you that Haiti's problems are worse than yours, you say, "You're right" and then shut up. You don't contradict her, then run to reporters for sympathy with your white whine. Even if it's a joke, it's not fucking funny.
G/O Media may get a commission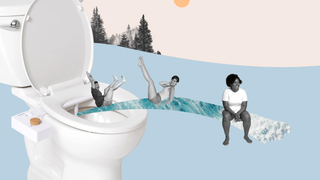 17% off
Tushy 3.0 Warm Water Spa Bidet Attachment
Then again, Roy Williams is not exactly known as a master of empathy:
* When asked last year if he would be willing to give back his state-funded salary to help with struggling budgets, Williams—who earns a base salary of $333,000, before bonuses, endorsements and speaking fees—responded that he was the "most sensitive person in this room to the state of our nation's economy," because his son was recently laid off. From an investment bank.
* After winning his 600th career game in November, Williams took time out from the celebration to chastise several hundred fans who paid for tickets to the non-conference game against Nevada, but did not show up. (The game, which was a sellout, took place on the Sunday of Thanksgiving weekend.)
* During a December game against Presbyterian, Williams turned his attention from the action on the court to have a fan ejected from the "Carolina" seats, because he was heckling Tar Heel players. "I just don't think anybody should yell negative things toward our players (when) you come in on our tickets to watch our game."
* And, oh yeah, this:
Hey, Roy? Flip you.
Duke-North Carolina clash lacking luster, but stakes still high [SI.com]
Update: Video of Roy's quote in this story from WRAL [via Buster Sports]: