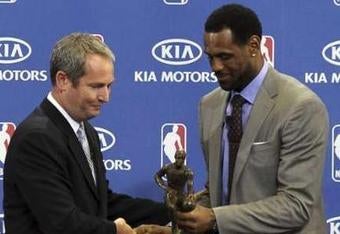 In sports, everyone is a winner-some people just win better than others. Like the seven media members who didn't vote for Lebron James as MVP, showing that you (sort of) can't spell insufferable without "suffrage."
There were 123 possible votes, including one collective fan vote. How much of a gimme was this one? Even the fans got it right, and remember, they're the ones who wanted to see Iverson and T-Mac face off at the All-Star game. But seven journalists thought otherwise, denying LeBron the unanimous vote that he probably deserved.
Let's not argue about the nebulous criteria for MVP. If most valuable means, "their team wouldn't have made the playoffs without them," you can give that to pretty much any of the contenders. So by default, the award goes to the best player. By any measure, that's LeBron — unless you didn't watch him play.
And that seems to be the problem here. Many of the votes go to local writers and play-by-play guys, whose view of the NBA is limited to their teams' opponents. Those three first-place votes for Dwight Howard? Each of them came from journos covering the Orlando Magic.
David Steele, the Magic's play-by-play announcer, justifies his vote by writing about how good Howard is. That's understandable, because if you see a guy every day, you're bound to appreciate him more. But "great" isn't a synonym for "greatest."
FanHouse's Tim Povtak, an Orlando guy as well, wrote that he denied LeBron a first-place vote because he chose to rest at the end of the season. There are so many things wrong with that thinking that we won't get into, but suffice to say, he threw his vote Howard's way. As did John Denton of orlandomagic.com
It hasn't yet come out where Kevin Durant's four first-place votes came from, but I'd suspect some or all are from OKC-based journalists. It's the nature of the beast, and it doesn't need to be changed. One day, a player is going to have a season so dominant, that everyone's going to be forced to set aside their homerism to reward that player with a unanimous vote. This could justifiably have been the year, but you can't account for taste. That's democracy in a nutshell.
Now, whichever scribe gave Stephen Jackson a fifth-place vote, even though he's not the best player on his team, deserves to be disenfranchised.