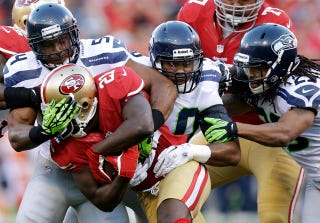 San Francisco 13, Seattle 6: Oh, this was not for the faint of heart. Yet another low-scoring NFC West scramble for yards, points, and general attention span of all those who bore witness to this borefest. Alex Smith and Russell Wilson both threw ill-timed and sloppy INTs that could've titled the result to the other team. Ultimately, though, the 49ers ground game racked up 175 yards on 32 carries, and Seattle's front seven just couldn't contain the unstoppable force known as Frank Gore, who alone averaged 8.2 yards per rush. Wilson, in his team's final desperate drive to tie up the score, took a snap in the ass when he called timeout, which seemed to perfectly encapsulate the Seahawks' game-long offensive woes.
Arguably, the most exciting part of the game occurred when Jim Harbaugh declined a safety in the final seconds that would've put the 49ers up nine and helped them cover the spread. Instead, the move equated to a big fuck you to gamblers everywhere and even sent some into hysterics.
The 49ers now stand alone in first place at 5-2, and the Seahawks go limping back home up north with an 0-3 record in the NFC West.