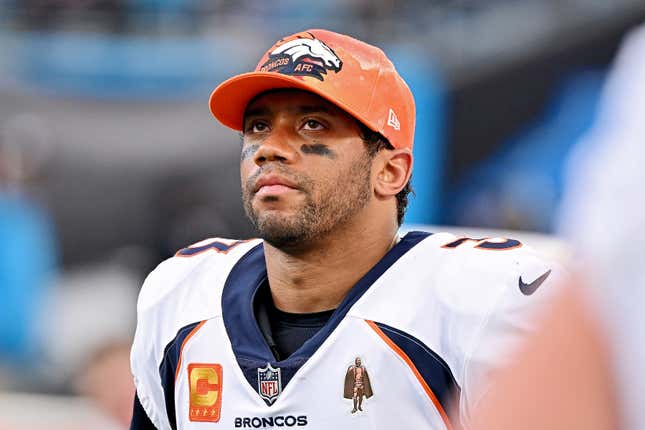 Fans of the Denver Broncos went from reluctantly embracing #LetsRide in the early weeks of the season to forcing Russell Wilson to stop using, uttering, or even thinking about it by early October.

There are endless regrettable team mantras that look horrible in hindsight — and also foresight. I don't blame those who still used "#LetsRide" after it went viral before the year because it was mostly in jest and lighthearted considering the expectations for the Donkos.

However, now Denver supporters have had enough with the curators of the quarterback's supremely filtered and maintained social media accounts across the board. A former Bronco lineman even tweeted that he'd love to see Wilson's PR people hunker down in a bomb shelter until the offense is fixed rather than sharing shit like this.
While that's a reasonable request at first glance, I don't think an indefinite ban is realistic seeing as no one knows how long it'll take to rectify the situation, or if it's even salvageable at all. There have been a few pieces about possible options for the organization to part ways with the guy they signed to a massive guaranteed contract, and none of them are good.
The Broncos don't have a realistic exit strategy, and they don't have a draft pick in the first two rounds in 2023 either. What they do have, though, is a defense that's mauling teams despite having zero room for error every Sunday.
The 17.6 points allowed per game is third best, and if Denver had an offense that was in the top 28, the team would be flirting with .500. Their 14.3 scoring average is dead last, and if it finishes at that mark, it would be the worst output for an offense since Arizona in 2018 when Josh Rosen was under center most of the season, and no Cardinal quarterback threw for more than 300 yards in a game.
Had it not been for Wilson's 340-yard night in Week 1 against Seattle, Nathaniel Hackett's group would hold that same distinction, which is probably why the first-year coach is heading for a one-and-done season, according to Peter King.
The blame in the Mile High City has been spread evenly across the offense's slice of bread, and you'd be right to cite the play-calling, the quarterback, injuries, skill players not performing up to projections, an offensive line that's given up the fourth-most sacks, or the team leading the league in penalties per game.
Some of those flags come on the defensive side of the ball, but, again, that unit isn't doing much of anything wrong. Fans hoping new ownership can lure in Sean Payton to help Wilson flambé are fucking mile high. The 34-year-old quarterback couldn't cook an omelet with the tutelage of Paul Bocuse. (Mostly because the legendary French chef died in 2018, but you get the joke.)
The 12th Man in Seattle endlessly criticized Pete Carroll for putting a governor on his former QB's game, yet Pom Pom Pete clearly knew how to win with Wilson, and in general. (That's neither here nor there, even though I'm interested in what happens to his love affair with Geno Smith if the pick the Seahawks got from Denver ends up in the top four like it is now.) Trust me, the fact that the Broncos' best path forward is to only let Russ use the microwave is not lost on anyone in the Pacific Northwest.
That's why I don't think Colorado's favorite team is that far away from respectability if they employ the same kid gloves used by Carroll. Denver paired a bottom eight running game with an anemic passing attack even though it's evident that Wilson is most effective in a balanced scheme.
Neither of the top two backs before the year are active after Javonte Williams tore his ACL early in October, and Melvin Gordon got cut recently after his fumbling persisted. Latavius Murray is now the No. 1 guy. And just like in fantasy football, when Latavius Murray is your best option, something went horribly, horribly wrong.
After acquiring the apparent next face of the franchise in March, horribly, horribly wrong is precisely how I'd describe the Broncos' run.