Sports Illustrated has a lengthy and detailed autopsy of the Legion of Boom Seahawks out today, and it is plenty juicy. It features current and former Seahawks players anonymously talking shit about Pete Carroll and Russell Wilson, and offers further insight into just how devastating the goal-line interception that lost them Super Bowl XLIX really was.

The through line of the story is that a substantial number of Seattle's defensive players—who viewed themselves as an elite unit forged in the fires of unrelenting competition—hated how much Carroll seemingly bent over backwards to protect Wilson's ego from any challenges or criticism. Stories about that tension wearing down the locker room have been floating around for years now, but SI's story adds another wonderfully deranged layer to the saga. Apparently, some Seahawks believed that Carroll called that doomed goal-line pass in the Super Bowl because he wanted Wilson to win Super Bowl MVP instead of Marshawn Lynch:
That Wilson threw an interception mattered less than the fact that the Seahawks had called a pass play on second down. Many who lamented how Wilson was treated differently now believed, truly believed, that Carroll had called a pass play to give Wilson a better chance to win the Super Bowl MVP award and decrease Marshawn Lynch's chances, perhaps conveniently ignoring that offensive coordinator Darrell Bevell might have actually called the play. Regardless, the players say, that call contradicted what Carroll always said publicly: that he wanted to run the ball and play great defense, that that's how he built the Seahawks—to be tough and stop foes and let Lynch bulldoze Seattle to victory after victory. Again, several players felt that Carroll said one thing and did another, and this time it had cost them a repeat Super Bowl title. (Such a view disregards the fact that the Seahawks defense missed 18 tackles and allowed the Patriots 196 yards-after-catch in the game.)
It's bad enough to have one of the worst play calls in football history hanging from your neck for the rest of your life, but imagine being so despised by your players that they believe there were conspiratorial motivations behind your mistake. And imagine being so petty, paranoid, and thin-skinned of a player that such a thought about your own coach pops into your head in the first place.
Whether or not Carroll lost his team a Super Bowl over internal locker room politics, it's clear that play had reverberating effects that continued to drag down what could have been an NFL dynasty:
Some Seahawks still remember every detail from that night. Sherman pacing back and forth, wearing his frustration into the carpet in that locker room in Arizona. Lynch, fully dressed, downing a bottle of cognac, saying "These motherf——— robbed me," and "f—- this," over and over. "If we gave the ball to the soul of our team and we lose, f—- it, we lose," one Seahawk says. "Point-blank, period. You lost doing what you do best. But he gave it to Russ. I didn't believe the MVP thing at first. But now I wonder. It's at least plausible."

"That one play changed the whole locker room," McDaniel says. "When Pete would give a speech or try for a heart-to-heart, people just stopped responding. They didn't know who to trust anymore."
G/O Media may get a commission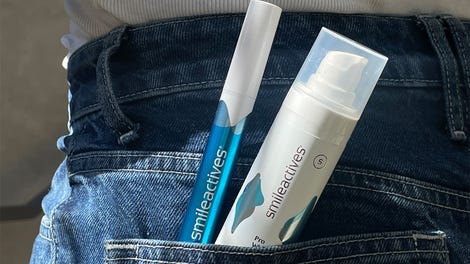 58% off
Whitening Powerhouse Pen & Gel Duo
Yeah, he should have just given the ball to Lynch.
[SI]