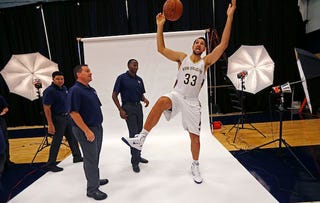 Pelicans forward Ryan Anderson is a movie buff. So before a preseason game in Atlanta last week, I presented him with a Sweet 16 bracket of the best basketball movies ever made (seeded based on Rotten Tomatoes and IMDB ratings), and asked him to pick the winners.
Anderson's bracket and full audio of his picks are below. First, some selected thoughts:
On Space Jam: "Number one, Bill Murray's in it. Forget about Michael Jordan for a second."
On Blue Chips: "I love any movies with Shaq cameos, except the ones with Adam Sandler."
On Kevin Durant's acting skills in Thunderstruck: "It's not really a classic, let's just say that."
On why he made the executive decision to write in Eddie, which wasn't initially in the bracket: "It's one of my favorites of all time."
"What would I want to watch right now? I would want to watch White Men Can't Jump."
On Hoop Dreams: "Too depressing."
On why he had White Men Can't Jump go all the way to the final: "Me being a white man that can't jump, it just makes sense to me."
On why Space Jam wins the bracket: "At the end of the day, they're trying to fight for the greater good. They're fighting for humanity."
---
Jacob Eisenberg is a senior at Emory University in Atlanta, Ga., and specializes in NBA analytics. Follow him on Twitter @eisenberg43 and check out his website at jacobeisenberg.com.