Bill Conlin wrote something dumb today. In other news, the sun rose in the east. But we're not going to go after Bill Conlin, because it's been done. Instead we're going to try and put in the simplest terms possible why he and anyone else rejecting advanced statistics out of hand are being willfully ignorant.
One guy even invoked the despicable, undecipherable WAR stat. That's a totally bogus acronym for "Wins Above Replacement." It presents a patentedly unsupported hypothesis that measures the "projected" performance of an "average" Triple A player called up to replace Major League regular A . . .

I'm laughing too hard to continue.
These are the words of a man paid to understand and explain baseball. It's an offensive dismissal, and not because WAR is some kind of infallible holy grail. What it is is a stat. And Bill Conlin hates stats.
Except he loves them. In his column defending Ryan Howard, he mentions Howard's RBI total six seperate times. Runs batted in is a stat. RBIs are a partial measure of runs created (not this one), while WAR is partial measure of wins, and both can coexist. It's not a zero sum game. Conlin wants to excommunicate WAR, because it's not perfect. But no one has ever claimed otherwise — WAR has lots of fine-tuning left to be done, but it's ever-evolving.
You want a flawed stat? The RBI might be the worst of all.
On opening day this year, Placido Polanco led off the seventh with a single. On a hit-and-run, he moved to second when the ball rolled past the vacated second baseman. He moved to third on a passed ball. Ryan Howard hit a lazy fly ball to center, and Polanco tagged up and scored. In Bill Conlin's world, this is all Howard's doing — without it, he wouldn't be tied for the league lead in RBIs that Conlin uses repeatedly to argue Howard's case.
G/O Media may get a commission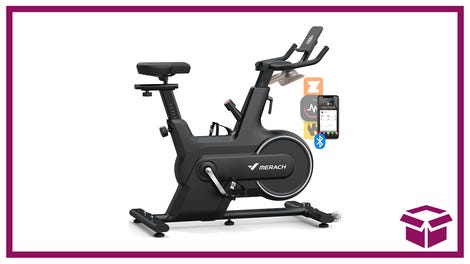 14% off + Coupon
Merach Indoor Cycling Bike
So don't hate stats you don't understand, especially when it's clear that you don't fully grasp the stats you arbitrarily decide to embrace.
Here's to you, Ryan Howard [Philadelphia Daily News]