Sometimes it feels like the release of each team's Masterton nominee is timed right for the slow end of the regular season, just before the final few must-win games, to give the writers (who pick the nominees and vote on a winner) something to write and argue about. If so, Buffalo's PWHA chapter wins for picking the unlikeliest of nominees.
The Masterton Trophy annually goes to the player "who best exemplifies the qualities of perseverance, sportsmanship, and dedication to hockey." What that means is wide open to interpretation, but this one's a little baffling. Last summer, O'Reilly was charged with impaired driving after he allegedly drunkenly smashed his restored 1951 Chevrolet truck into a Tim Horton's building and later fled the scene on foot. His trial date is set for July, a couple of weeks after the Masterton will be handed out.
The Buffalo News' Mike Harrington was tasked with explaining why O'Reilly is a deserving nominee. There is no mention of the drunk-driving charge, but there is this:
In his first season with the team after a blockbuster draft-night trade with Colorado, O'Reilly leads all NHL forwards in ice time (21:48 per game). He has 17 goals and leads the Sabres in assists (35), points (52) and faceoff percentage (56.6). O'Reilly was also Buffalo's lone representative to the All-Star Game in Nashville in January.

But more than just the numbers, O'Reilly has become a de facto captain in the locker room and on the ice.
"He's good and works hard," basically.
The Masterton, for roughly the last 30 years or so, has generally gone to a player who has returned to the ice after A) injury or B) personal or familial tragedy. There's still plenty of that. The Penguins' nominee is Pascal Dupuis, who unsuccessfully tried to work back from a series of blodclots. The Rangers' is Mats Zuccarello, who returned after taking a puck to the head that fractured his skull and injured his brain to the point where he needed speech therapy. Michal Roszival shattered his ankle; Jamie Benn had two hip surgeries; Jonas Gustavsson had a heart problem. You get the idea.
G/O Media may get a commission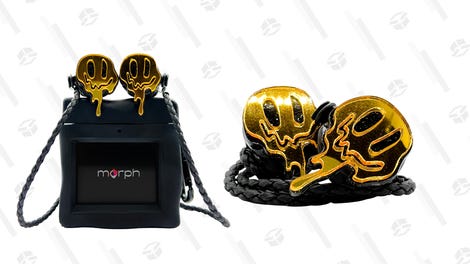 morph audio
Morph Earphones
Problem is, the PWHA blew everything up last year when they gave the Masterton Trophy to Devan Dubnyk for being a journeyman goalie who finally played well somewhere. Maybe the award has lost all meaning, soon to be subsumed by the Mark Messier Leadership Award. Maybe the Sabres literally have no role models, or at least no one inspirational enough to overcome a drunk driving charge.
O'Reilly will not win this award, so it means nothing beyond a line on his agent's Powerpoint and an opportunity for hockey writers to have an opinion today. I, instead, will persevere: in the spirit of sportsmanship and my dedication to this blog game, I refuse to have an opinion. I'm an inspiration to all, when you think about it.