Steelers GM Kevin Colbert said today that injured linebacker Ryan Shazier won't play in 2018. "He knows that, and we know that, and we're gonna continue to support him in his recovery," Colbert said, adding that they will keep him on the roster next year. "We know that's a challenge, 'cause we'll be at 89 players and fortunately for Ryan, he's covered in that manner."
Jokic? Embiid? The NBA MVP is obvious... right? | Keep it a Buck(et)
Shazier suffered a serious spinal injury last December when he crumpled to the turf while making a tackle in Cincinnati. He underwent spinal stabilization surgery shortly after the injury, but as he recovered, there was almost no concrete information about Shazier's condition—could he walk? Did he suffer neurological damage? Two months after the injury, the first reports surfaced that Shazier could move his legs, and he showed up at a Penguins game and stood up (with assistance) for the crowd.
It's encouraging that the uncertainty surrounding Shazier is no longer about whether he'll be able to regain his core motor functions, even if it's grimy how the Steelers used his public appearances to squeeze goodwill out of his existence while they kept everyone in the dark about the specifics of his injury. Nobody really knows if he'll play again, but the linebacker is determined to continue his career and achieve higher goals.

G/O Media may get a commission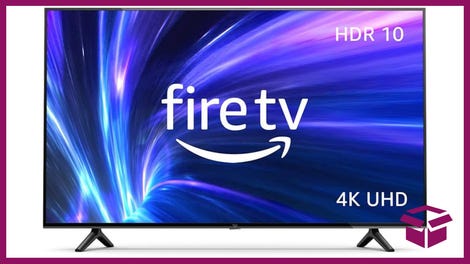 42% Off
Amazon Fire TV 50" 4K Smart TV
Last week, Shazier gave his first public comments since the injury, and spoke about his desire to play football again and eventually make the Hall of Fame. Via the Pittsburgh Post-Gazette:
"I got to get back," Shazier told teammate Roosevelt Nix on the fullback's podcast. "Right now I'm reading a book and it's basically saying trust the process. I'm really trusting the process. I know the end goal. So I'm taking every step of the way, I'm giving everything I got. The therapists are like, 'Man this is crazy; I've never seen anyone work this hard.' They almost see progression every day.

"They say like some progressions they see week to week, they see from me day to day. I'm really trying to come back and still be a Pro Bowler. I'm sorry, because I feel I got snubbed this year for All-Pro even though I got hurt. But I feel like my stats are as good as those who made it."
Because Shazier wants to still play football or at least attempt to, this puts the Steelers in a weird contract situation. In April of 2017, the team exercised Shazier's fifth-year option, guaranteeing him $8.7 million. When Colbert says that Shazier is still part of the 2018 team even if he won't play, this isn't an act of generosity—it's a requirement. Even if the Steelers had released him, they'd still owe that money.
Before his injury, Shazier was in line for an extension. Now, even if he recovers completely and decides to risk his body once again, he'll be a free agent after 2018. Restructuring his contract is a possibility but doesn't seem particularly appealing to either side. The Steelers don't want to tie more money to a player who might not actually play again, and Shazier has no reason to give up $8 million while he recovers from a serious injury.