If you're looking for a last-minute underdog to support, this is your team.
Last July, Ecuadorian striker Christian "Chucho" Benítez had just made his debut for El Jaish of Qatar's Q-League, when he was rushed to the hospital with severe stomach pains. He wasn't seen for several hours, and died in the hospital of respiratory failure. He was 27.
His Ecuador teammates were devastated, and Ecuador temporarily retired his number 9 jersey. But because FIFA restricts teams to squad numbers 1-23, João Rojas will don the fallen striker's jersey at the World Cup.
The team is heading to Brazil with a heavy heart. If they're to shock everyone and advance out of Group E, however, they'll have to play inspired soccer and unhinge France and Switzerland's likely hold on the group.
Ecuador are back at the World Cup for the first time since the heady days of the mid-aughts when striker Agustín Delgado led the team. Then as now, Ecuador are coached by a Colombian. In fact, all three of Ecuador's World Cup runs came with a Colombian manager at the helm.
In a tournament where the once-prevailing wisdom about European teams struggling at World Cups outside of the continent will be tested in one of this World Cup's many undercurrents, Ecuador are somewhat removed from the conversation.
G/O Media may get a commission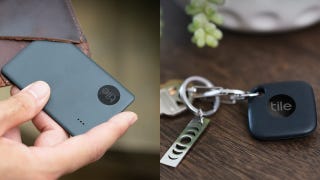 Up to 35% off
Tile Item Trackers
Somewhat rightfully so. Ecuador are one of only three South American countries to never win a Copa América and struggle mightily outside the confines of their home stadium: Estadio Olímpico Atahualpa, 9,127 feet above sea level. La Tri took just three draws from eight road matches in CONMEBOL qualifying, and their failures raise very serious questions about the team's ability to make a run in a neutral-site tournament.
Roster
Goalkeepers: Maximo Banguera (Barcelona Sporting Club), Adrián Bone (El Nacional), Alexander Domínguez (Liga de Quito)
Defenders: Gabriel Achilier (Emelec), Walter Ayoví (Pachuca), Óscar Bagüí (Emelec), Frickson Erazo (Flamengo), Jorge Guagua (Emelec), Juan Carlos Paredes (Watford)
Midfielders: Segundo Castillo (Al Hilal), Carlos Gruezo (Stuttgart), Renato Ibarra (Vitesse Arnhem), Fidel Martinez (Tijuana), Cristian Noboa (Dynamo Moscow), Édison Méndez (Santa Fe), Luis Saritama (Barcelona Sporting Club), Antonio Valencia (Manchester United), João Rojas (Cruz Azul), Jefferson Montero (Morelia), Michael Arroyo (Atlante)
Forwards: Jaime Ayoví (Tijuana), Felipe Caicedo (Al-Jazira), Enner Valencia (Pachuca)
Nickname
La Tri
FIFA World Ranking
26
Manager
Reinaldo Rueda
Players to Watch
Antonio Valencia, Winger
If you're looking for a good World Cup drinking game, take a shot every time the commentators mention that Antonio Valencia plays for Manchester United. It should have you on your ass by halftime.
You don't make it to Manchester United for no reason, though, so it is a salient point to bring up. As Ecuador's best player, Valencia is the bellwether for the team's success. When Ecuador aren't playing well, he's often found idling along on the wing, starved of possession, service, or any real options when he is on the ball. When Ecuador look dangerous, it's because the winger takes the most mundane of passes and just tears off down the field. The man can torch a touchline and when he does, he changes the game.
When defenders are afraid of getting burnt as badly as Valencia can burn them, tactical instructions like keeping a high line, compressing the midfield, and any other semblance of defensive strategy are the first thing to go. Valencia's heat is so hot, he can singe away gameplans from within the opposition's mind.
When this happens, passing lanes open, the previously organized defense reveals gaps that didn't exist before, and Ecuador have the time and space to play their game. It won't necessarily speed up their passing or bestow upon the midfielders any more technical ability, but those little crevices are enough for the sidekicks to assert some control on the game, which in turn frees up their main man to influence the game even more.
Valencia isn't the most consistent player, and his lack of consistency won't be papered over by the ability of his teammates like it does with United. But he is what we mean when we call a player a game-changer. There aren't that many around, and that Ecuador have even one makes all the difference.
Walter Ayoví, Left Back
The playmaking winger is a modern tactical strategy in response to the physicality and pressure prevalent in today's game. Ayoví adds his own twist: He creates from a nominal fullback position. But often, he says to hell with positional rules and roles and just slides into the midfield.
Somehow the guy who is defending opponents' most dangerous right-sided attackers also ends up lifting diagonals over opposing defenses, keying an attack built on the punctuated athleticism Ecuador thrive on. He's a positional case study, really. His size and strength seem to indicate that he belongs in the middle of the pitch. His passing creativity insists as much. Ayoví appears just as comfortable rolling the ball around the center circle as he does knocking opposing wingers off the ball.
If Ecuador is to knock off one of the French-speaking favorites, it will likely come off of Ayoví tilting into midfield and picking out one of La Tri's pacy wingers for a quick cross and finish. It's anything but orthodox, which makes it a perfect fit.
Tactics
Let's not bury the lede: Ecuador aren't very good. Reinaldo Rueda's team often marks space instead of their man, fluffs clearances, and fails to pressure the ball far too often. Interstitial individual efforts and snap combinations redeem the squad as La Tri live and die by the double-edged sword of free-form play in modern soccer.
Ecuador fluctuate between something resembling a diamond midfield and a 4-3-3. Defensive midfielder Christian Noboa is the only member of the front six anchored to a position.
Ayoví flashes in and out from the left touchline, listed as a wingback but filling the role of a more traditional playmaker. Segundo Castillo can man the right flank but more comfortably tucks in alongside Noboa, allowing the likes of Juan Carlos Paredes to pin back opponents' left side.
Ecuador depend on both full backs to maintain width, especially when Ayoví surrenders his flank to pull the strings through the middle.
Forays into the attacking third usually spring out of a slow, square "give," followed by a blistering "go" run from Jefferson Montero down the left or Antonio Valencia on the right. This threat from wide areas stretches teams the full length and width of the field.
The downside is that La Tri don't press hard enough, or as one. Because of this, holes abound in the Ecuadorian midfield, exposing a back line that Sergio Agüero and Ángel Di María managed to expose on their own during a 4-0 drubbing to Argentina in qualifying.
La Tri may be able to get away with this kind of play against Honduras and might could maybe spring enough out-of-the-blue brilliance on Switzerland, but France isn't likely to be so forgiving. If Ecuador are to advance from Group E, they'll probably need four points from their first two matches. Maybe. But probably not.
Group E Fixtures
All times Eastern
June 15, noon: Switzerland vs. Ecuador at Estádio Nacional
June 20, 6 p.m.: Honduras vs. Ecuador at Arena da Baixada
June 25, 4 p.m.: Ecuador vs. France at Maracanã
Complete Group E Previews
Switzerland | France | Honduras | Full Archive
---
Screamer is Deadspin's soccer site. We're @ScreamerDS on Twitter. We'll be partnering with our friends at Howler Magazine throughout the World Cup. Follow them on Twitter,@whatahowler.
Top image by Sam Woolley; photos via Getty