As he was questioned by lawyers in 2015 over and over again about what he did and did not know about sexual abuse suffered by Olympic athletes, then-U.S. Olympic Committee lawyer Gary Johansen made a choice. No matter the question, no matter which lawyer asked it, Johansen did not say "child abuse," he did not say "sexual assault," and he did not say "rape." What he did say, over and over again in his deposition, was "SafeSport." The USOC, he said each time, wasn't responding to a crisis of rampant sex abuse. No, he said, these were "SafeSport issues."
The choice of the phrase stands out. It is, for one thing, a pleasant-sounding euphemism for a horrible set of acts. It is, for another, a phrase the USOC trademarked in 2012, before it took serious steps toward opening an "independent" arm to investigate sex abuse, before the latest round of Congressional hearings, and before Larry Nassar became a household name for his decades of preying on female athletes. By using the phrase over and over again, Johansen was able to erase people's very real pain and suffering and replace it with a catchphrase. (Johansen, who has since retired from the USOC, did not return a message left at his home.)

Over time, the phrase SafeSport has come to mean several distinct things. It is the name adopted by various governing bodies whenever they have a sexual abuse scandal and need to promise to do more education and prevention. It is a program of sexual assault education and prevention in various Olympic sports. It is—and this is what people are most likely to think of when they hear the word SafeSport, if they know it at all—an actual, physical center in Denver that handles reports of possible sexual abuse in Olympic sports. But above all, SafeSport is a brand, and it functions as one.
Even if it was perfectly engineered, SafeSport would have difficulty achieving its aims, and it is far from perfectly engineered. Records, interviews, and an examination of the relevant history show that while basic groundwork has yet to be laid to protect athletes from abuse, SafeSport has already been deployed to make any parents' concerns just go away.


First there are the logistics. The caseload number, as given to Deadspin, is 19 cases per investigator, more than half again as high as the general recommendation for caseworkers in state-provided children's services. (That number is itself arguably far too high.) The budget for education, intended to prevent future abuse, is just $1.5 million, and the overall budget when the SafeSport CEO spoke to Congress was a paltry $4.6 million. (For comparison, anti-doping agency USADA had total expenses in 2016 of close to $20 million.) Child abuse is a problem that can be significantly mitigated with money, and yet it seems that nobody—not even Congress—can be bothered to do just that.

Then there is the center's claim to be independent from the USOC. The word "independent" or "independence" came up nine times at a congressional hearing earlier this year. But no matter how many times SafeSport CEO Shellie Pfohl promises independence, the center's history tells a different story. The center is not only reliant on funding from the USOC and other national sports bodies, but is a root-and-branch creation of the USOC. Meeting minutes for the first two years of the SafeSport board, reviewed by Deadspin, show that many of the USOC's top people, including lawyers like Gary Johansen, were present at meetings offering the SafeSport board guidance and direction. Among them was current SafeSport chief operating officer Malia Arrington, who once said in a deposition that she had no authority to make USA Taekwondo ban a coach despite evidence of sexual abuse. She was, while on the USOC's payroll, SafeSport's acting CEO for most of 2016, the key person leading the board through questions about how the center would work and what its priorities would be. She's still there, as SafeSport's COO. The USOC even controlled SafeSport's bank account, meeting minutes said, until last year.
SafeSport disputed questions about its independence, with a spokeswoman saying in a statement: "There are a lot of people who are thankful for the center, its mission and work in the movements." When asked why so many USOC people were included in the creation of SafeSport, USOC spokesman Patrick Sandusky said SafeSport "was an idea created by the USOC," an answer that ignores decades of work of by athletes and activists, especially Champion Women CEO Nancy Hogshead-Makar, demanding the USOC do something to respond to the abuse crisis in Olympic sports.

The USOC exists because of an act of Congress, the Ted Stevens Act, which chartered the organization and gave it nonprofit status. Congress could step in and rewrite the rules that structure Olympic governance; it could fund the SafeSport center to levels that would allow it to protect children in Olympic sports; it could acknowledge that child abuse happens across all walks of life and make the entire issue a national priority.
But Congress itself can't be bothered to fund the SafeSport center (and, it's worth noting, has previously held hearings to berate Olympic leaders that accomplished little beyond generating headlines and press releases). It has provided zero dollars directly to SafeSport and instead set up a grant that the center has to apply for—via the attorney general's office, the same one that recently played a role in separating immigrant parents and their children. That grant, which SafeSport will have to spend time and money to get, is for about $2.2 million. It's telling that even Congress, the very architects of the American Olympic movement, can't be bothered to do more than the barest of minimums.
For all the hoopla and all the press releases and all the hearings where elected officials scowl for the cameras, nothing has changed, with the notable exception of the SafeSport brand suddenly appearing everywhere. No children are any safer.

"If you want to molest kids, the USOC is like Disneyland," said attorney Jon Little, who has played a part in multiple lawsuits against various sport governing bodies, including lawsuits filed earlier this year against USA Taekwondo and USA Diving. "The SafeSport center is just a way to whitewash it."
---
If it weren't the Olympics—shrouded in flags, patriotism, our national anthem, and tear-jerking video montages—the structure of the U.S. Olympic Committee and the organizations it "charters" to oversee each sport would be understood as what it is: A strange, shell corporation-like setup that may not launder money but does, conveniently, dodge liability. In fact, that might be the most important function that the USOC provides within the Olympic movement: a quick and easy path to plausible deniability for any higher-up who needs to tell a reporter or a lawyer that whatever horrible human actions have been uncovered—like the many cases of young Olympics being abused and raped by their coaches—aren't their fault.

That's why, when there is a scandal, the USOC is quick to point out that it doesn't run the sports it oversees; that is done by the national governing bodies, which it charters and partially funds but which largely run themselves. That's why, when convenient, the USOC will say it can't tell NGBs what to do, even though through funding or the threat of decertification, it can. That's why they will insist, over and over again, that there is no such thing as a USOC athlete; the athletes belong to the national governing bodies, or NGBs. (USOC communications director Christy Cahill once sent Deadspin a correction request for using the phrase "USOC athlete" in a blog post. "The NGBs, in this case USA Taekwondo, manage all of the athlete relationships and no athletes are 'USOC athletes,'" she wrote.)
According to the USOC's own tax returns, it's largely a tax-exempt funnel for cash. The most recent tax return for the USOC, from 2016, tells the story. Their No. 1 expense is giving money back to the NGBs (who pad their executives' salaries while not paying athletes); their No. 2 expense is running the Olympic training center, which one report found was mostly used by non-Olympians; their No. 3 expense is sending athletes to compete; No. 4 is supporting the Paralympics; and No. 5 is "broadcast properties." The USOC's tax returns describe that duty, which costs them more than $10 million, as a mix of working to "secure and nurture" its relationship with broadcast partner NBC (which also sponsors SafeSport) while also growing and developing digital platforms for the Olympic movement, like the TeamUSA.org website.
Another $4 million is spent on "communications," more than $2 million on international relations, and $4 million on drug control. By their own accounting, the USOC spends a lot of money on public relations. A big part of its job is being a tax-exempt marketing agency. And that's on top of the CEO's million-dollar salary and the more than a dozen executives below him earning six figures in 2016, including a chief marketing officer, not one but two managing directors of marketing, and a chief of communications.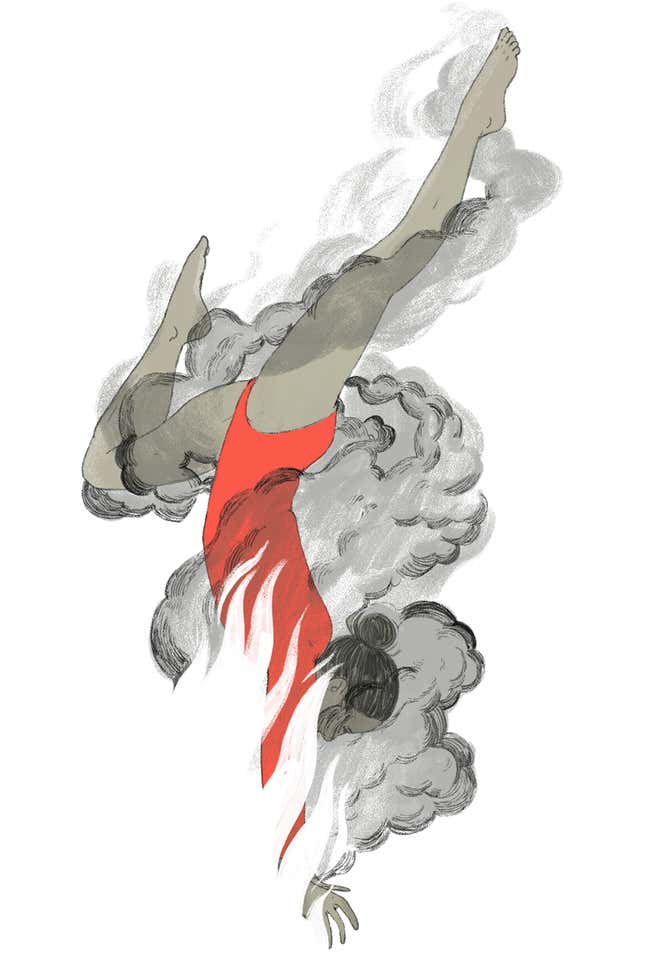 Here's what the USOC does not do: "The USOC does not train and develop athletes, train and develop coaches, train and create officials, run events, develop grassroots programs to allow children to enter sports, create national physical testing programs to determine an individuals athletic proficiencies or capabilities, establish or develop any facilities in any sport (not that they should ) ... or really have any real influence on the ultimate success of our athletes in Olympic sport," said Mike Jacki, who was USA Gymnastics president from 1983 to 1994.

The USOC made this argument itself in a recent response to several Nassar-related lawsuits against it. USOC lawyers argued that it should be dismissed from several lawsuits because it has no control over USA Gymnastics. "At an organizational level, USA Gymnastics is not an "affiliate"through which USOC operates, unlike the local soccer organizations in US Youth," the motion to dismiss reads. "To the contrary, under the ASA, USA Gymnastics is an independent, autonomous organization that exercises complete control over its sport ... In other words, control of USA Gymnastics is alleged to reside with USA Gymnastics itself."
Nonprofit watchdogs will tell you that a wishy-washy descriptor of what an agency does is usually a warning sign, and the USOC's own description of itself to the IRS is a battery of empty language: "To support U.S. Olympic and Paralympic athletes in achieving sustained competitive excellence while demonstrating the values of the Olympic Movement, thereby inspiring all Americans."
In other words, the USOC spends a lot of money on largely vague purposes, plus its own expenses. And "sexual-abuse allegations represent a threat to this steady stream of commercial success," in the words of one recent lawsuit filed against USA Diving and Ohio State for their failures to prevent sexual abuse by a coach. "For this reason, the USOC tries at every opportunity to suppress the public from recognizing that the USOC is a complete sham."
And that stream of commercial success is all about broadcast partnerships. In 2016, the USOC received more than $172 million in revenue from broadcast rights. The second-biggest source of income, at more than $120 million, was royalties. Revenue from broadcasting went down in 2015, a non-Olympic year, but royalties didn't. They still generated about $101 million that year, according to tax returns.
So it fits with a morbid pattern that the USOC, which functionally ignored child abuse for decades, has responded to an abuse crisis with a branding campaign. That's what public relations and marketing are for—turning negatives into positives.
One timeline put together by attorneys and advocates for athletes dates the first report of sex abuse by an Olympic coach all the way back to 1990. In 1991, the topic of preventing sex abuse came up at a meeting of a USA Swimming ad hoc committee, according to documents obtained by the website SwimVortex. The documents showed no action taken on that issue. More scandals emerged across multiple sports over the decades, but little changed.

Then in 2010, a series of reports aired on ABC and ESPN exposing how little USA Swimming did to protect its athletes from sexual abuse: There were no pre-hiring background checks, many people never thought to report warning signs they saw, and many others willfully looked the other way because they put winning first. In response, USA Swimming started a program it dubbed SafeSport, which the entire Olympic movement later adopted.
From there came lots of meetings. First, the USOC started a task force. That task force issued a report in September 2010, and gave quotes to reporters about how they would get it right this time. A year later, in 2011, there still wasn't a robust training program, or a centralized model for education across all sports, or a way to make sure bad coaches weren't jumping from sport to sport to avoid detection, all of which the task force had recommended. But the USOC did file an application for a trademark on the name SafeSport. The application provides the best insight into what the USOC really wanted SafeSport to be. From the application:
Educational services, namely, conducting classes, seminars, presentations, workshops and providing education and resources (both printed and electronic) to prevent the maltreatment of athletes in organized sport; developing, publishing and promoting practices, policies and procedures to prevent the maltreatment of athletes in organized sport
A few months later, they amended their application to include "promoting awareness of the need to prevent maltreatment" and "developing voluntary standards."

Over and over again, the phrase "voluntary standards" pops up in the trademark application materials. A year later, in 2012, they added what looks like a printout of a very cheerful website.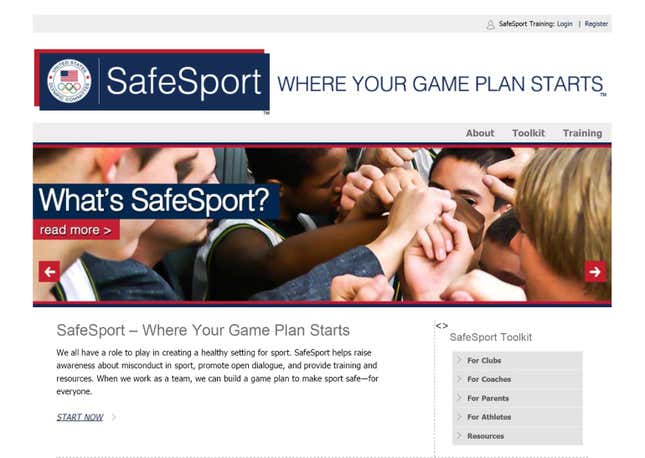 The application for a trademark was approved in August 2012. A month later, the Wayback Machine first captured SafeSport.org looking a lot like what was described in the trademark application. By then, the USOC had also hired Arrington—a lawyer who said under oath in a deposition that she had no prior experience as an attorney working with sex-abuse victims—to be their senior director of ethics and SafeSport. She described her duties to stop sex abuse this way in a 2015 deposition: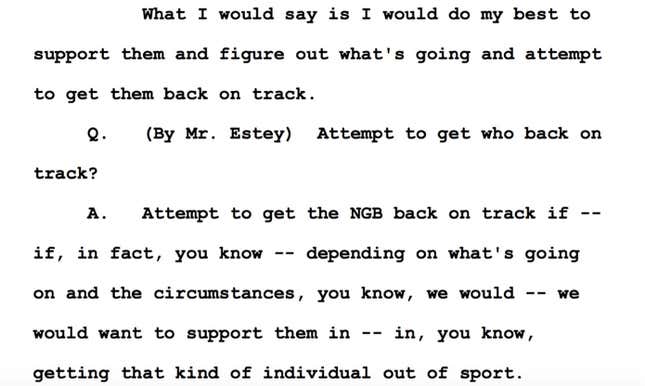 Trademark in hand, Olympic officials could now bring up SafeSport as needed.
In 2013, when US Speedskating had to settle with a group of athletes who said they were abused by their coach, the USOC promised to expand the nebulous SafeSport program and create an independent agency to address the issue. The people in that discussion included the then-CEO of USA Gymnastics, Steve Penny, who eventually left in disgrace over how he'd handled the Larry Nassar scandal.

In 2014, a group of 19 female swimmers said they were sexually abused by their swim coaches, forcing the International Swimming Hall of Fame to rescind an invite to the head of USA Swimming, Chuck Wielgus. And what did Wieglus trot out in defense of his reputation? SafeSport. A statement from Wielgus said, "While USA Swimming developed its groundbreaking SafeSport Program, I championed the work of our national governing body. I talked about all the good that USA Swimming was doing in the fight to eradicate sexual abuse."
Later that year, when Outside magazine reported extensively on the ongoing issue of sexual abuse across Olympic sports, especially swimming, Olympic leaders once again called on SafeSport. The article notes the SafeSport center will open, eventually, and goes into detail about the success of the SafeSport program in USA Swimming, overseen by Susan Woessner. (Woessner resigned earlier this year after the Orange County Register reported that in 2007, she was part of a USA Swimming sexual misconduct investigation that cleared swimming coach Sean Hutchison, who Woessner had kissed three years earlier. The swimmer in that case, Ariana Kukors Smith, has since said Hutchison was abusing her.)
But the brand was already on full display. The USOC held a SafeSport summit in 2014 that, per its own press release, "left each attendee inspired to take action." What didn't make the press release is the fact that that, as Outside reported, former short-track speed skater Bridie Farrell said at the conference that she had been sexually abused by a fellow skater, Andy Gabel. Gabel admitted to misconduct in an interview with the Chicago Tribune, but didn't lose his lifetime membership to US Speedskating until 2016.
In June 2014, the SafeSport website had existed for two years. As captured by the Wayback Machine, it offered this advice on how to handle a report of possible child abuse.

It does not mention calling law enforcement or any authority outside the Olympic system.
In her deposition, Arrington would use the website as one of the big results of her work. (Estey refers to the lawyer for the one of the plaintiffs.)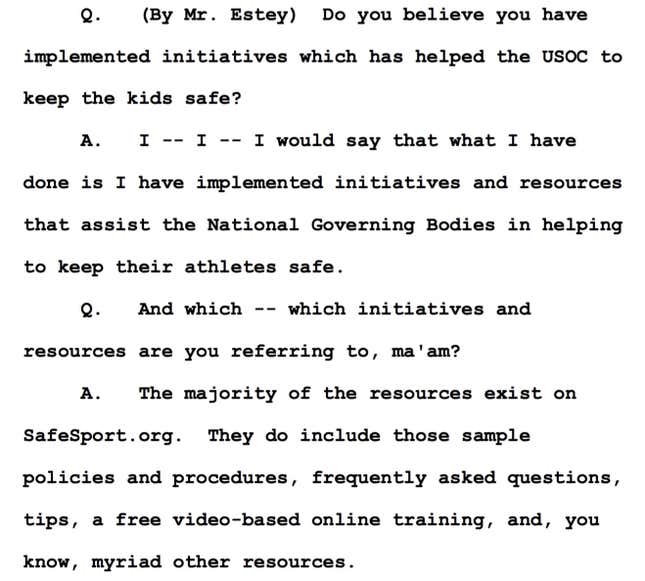 When the Government Accountability Office did a report on abuse in athletics in 2015, the USOC once again trotted out SafeSport. They told the GAO that SafeSport was its "athlete safety program." The physical center that had been promised still did not exist. That same year, according to USOC tax records, the organization finally amended its bylaws, "requiring members to comply with safe sport policies of the USOC and the independent safe sport organization designated by the USOC to enhance safe sport practices and to investigate and resolve safe sport violations."

In 2015, USA Swimming held its own SafeSport conference. Dani Bostick, who was abused by her swimming coach in the 1980s, was invited to speak there. She described the experience as having little to do with preventing sexual abuse, and mostly about marketing.
"It was them using me as a victim show pony," she said. "There was no significant content on actually preventing sexual abuse, and I left the conference going, 'Why does this even exist?'"
In 2016, though, when the story of abuse in gymnastics first broke, the first solution proposed by the USOC was SafeSport, with Arrington giving quotes to reporters. That same year, SafeSport did an inquiry into a diving coach sexually abusing a young diver, according to a lawsuit filed by the diver this month.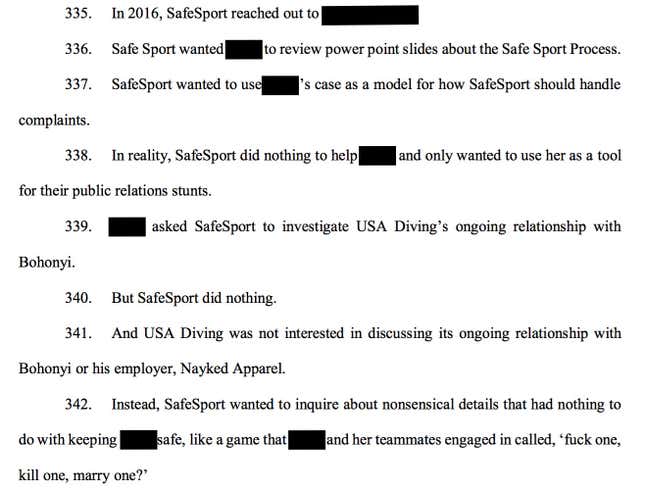 In 2018, the USOC documented the transfer of its trademark on "SafeSport" to the SafeSport center—the same center that is supposed to be independent of the USOC.

Asked for comment, USOC spokesman Patrick Sandusky asked to speak on background, and said he couldn't answer all of Deadspin's questions within the 30 minutes he had allotted. Over email, he promised to look into why the USOC holds the trademark on SafeSport, and he sent a link to a 2017 letter to two senators from then-USOC CEO Scott Blackmun, which said delays in opening the SafeSport Center were due to it "[taking] more time and effort from more people than we expected."
Asked to address the critique that the USOC is largely a marketing agency that now has been tasked with addressing sexual abuse, he wrote back: "The vast majority of our staff are dedicated to elite sport performance, including coaches, nutritionists, psychologists, physiologists, chiropractors, strength and conditioning experts, to name a few, all dedicated to delivering against the USOC mission of supporting athletes in achieving sustained competitive excellence." As for the trademark, Sandusky said it was secured "to protect the name of the center for safe sport, not for marketing reasons."
For the SafeSport center to have a chance, athletes need to believe in its independence. Otherwise, SafeSport will run into the same issue that has plagued law enforcement, child services, Title IX officers, and human resources departments: Victims avoid reporting to enforcement offices that they view as prioritizing the reputations of their institutions over individuals. Independence is hard enough to sell given that SafeSport existed for several years as little more than a USOC trademark, a website maintained by the USOC, and a nice catchphrase to trot out when another sexual-abuse scandal broke. But documentation of the earliest meetings of SafeSport board show that any assertion of independence is, at best, magical thinking.
First, there's the matter of the SafeSport board of directors. USOC chief of sports operations Rick Adams is not on the board, but his own USOC biography page says that he "led the hiring of a CEO and a nine-member, independent board of directors" for SafeSport. Adams is accused in a lawsuit filed against the USOC and USA Taekwondo of knowing about "the numerous complaints of rape and sexual assault made by U.S. athletes against the Lopez brothers" and doing nothing. He would later go on to apologize before Congress for the USOC's failings, but his fingerprints on SafeSport remain. (A USOC statement on the Taekwondo lawsuit did not specifically address any of the allegations.)

The first SafeSport board members included Fran Sepler, who, according to USA Gymnastics, was hired to interview gymnast Maggie Nichols in 2015 about Larry Nassar abusing her under the guise of medical treatment. Sepler told Sports Illustrated that she wasn't there to do an investigation, just to "conduct interviews." But USA Gymnastics' statement about Sepler's role was more vague, and Nichols' dad said he was under the impression that Sepler was with law enforcement. Sepler has since left the board.
Still listed as on the board is Megan Ryther, who spent four years on USA Swimming's board of directors—the same organization that's still plagued by sex-abuse cases. There's also film producer Frank Marshall, who says on his own website that he was a member of the USOC for more than a decade. For his work with the USOC, he has an Olympic shield and was inducted into the U.S. Olympic Hall of Fame. He also at one point was a board member for USA Gymnastics.
Dozens of pages of meeting minutes from the first two years of the SafeSport board do little to support the claim of independence. They do, however, line up with the idea of SafeSport as a USOC brand created to make parents feel better and make reporters go away. They show an organization—started by the USOC, given orders on what to do by USOC employees, and staffed in key positions with former USOC employees—that talked more about branding, market positioning, and how to handle a media crisis than child abuse or protecting athletes. Like this meeting on March 18, 2016:


The first meeting was held on Jan. 28, 2016, in Colorado Springs, Colorado, where the USOC is located. Along with the board of directors, six other people attended, according to the meeting minutes. Almost all of them worked for the USOC:

Malia Arrington, USOC senior director, ethics and SafeSport

Meredith Yeoman, USOC coordinator, community outreach and communications, ethics, and SafeSport
Gary L. Johansen, USOC associate general counsel, legal, and SafeSport secretary.
Stephen Brewer, USOC controller, finance, and SafeSport treasurer
Chad Sunderland, USOC director of business intelligence, strategic planning
David P. Kunstle, outside counsel for SafeSport from the law firm of Lewis Roca Rothgerber Christie
Arrington, the USOC official who said sex abuse had to be handled at the sport level, was the person guiding the SafeSport board as it created the SafeSport center to investigate child abuse. Johansen, the man who said the USOC doesn't have athletes and dubbed sex abuse a "SafeSport issue," was there as well.
Over and over again, in the minutes from early meetings, it's impossible to ignore the influence Arrington had over the very foundation of the SafeSport center. In that first meeting, per the minutes, she is thanked for "getting the organization up and running." Arrington gives the board a presentation about SafeSport. She goes over NGB and USOC bylaws. There is a discussion of the center's possible policies done, according to the minutes, "under Malia Arrington's leadership."
When the meeting picked up again, the next day, the same USOC people were there, plus more:
Rick Adams, USOC chief of paralympic sport and NGB organizational development.

Scott Blackmun, then-CEO of the USOC
Blanton Jones, USOC vice president, annual and major gifts, development department
Martha Johnson, USOC associate director, NGB fundraising development, development division
Pam Sawyer, managing director USOC human resources department
Outside counsel aside, there was only one person without a USOC title, paralympic athlete Rudy Garcia-Tolson. And the very first item noted on the minutes was Blackmun telling the board that SafeSport would get a few million from the USOC but, otherwise, "would need a dedicated and focused effort to raise funds in order to execute its mission."
The very next speaker was Arrington.
For a second day in a row, her name starts many of the action lines described in the meeting minutes. She lays out the factors for SafeSport's success. She leads a discussion on possible services SafeSport can provide. She tells the board that actually the USOC owns the trademark—true at the time, per federal records—but will transfer it over to this new organization. The motion to have Arrington sign such a licensing agreement passes unanimously.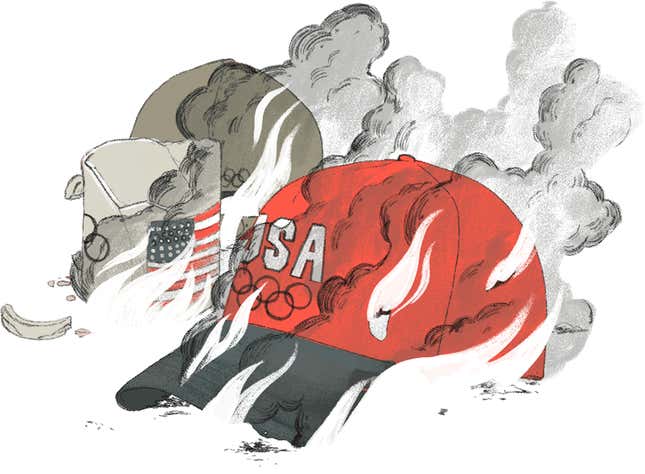 From there, more USOC people talk. Adams, Jones, and Johnson bring up how to raise money based on their USOC and NGB experience. Sawyer talks about how to look for a CEO. Arrington talks about the struggle to get insurance for the center. The board agrees to keep on Arrington and Yeoman as a loaned CEO (from the USOC) and a loaned community outreach/communication coordinator (from the USOC), with their salaries paid by the USOC through July. And the board agrees that the center—the independent center for the independent investigators that won't be influenced by the USOC—should be in Colorado, close to the USOC. There's talk about branding, as Arrington is worried that SafeSport could be construed as having to do with concussions or equipment safety. Near the end, the board decides to break into three working groups: communications and marketing, executive search, and fundraising.

And on the second day, they already were talking about branding.

From there, the USOC's fingerprints all over SafeSport only grow heavier.
The next meeting, on March 18, 2016, lists almost exclusively USOC people in attendance, outside the board, save for one person—USA Gymnastics CEO Steve Penny, who is described as speaking about the "challenges that were presented to USA Gymnastics in providing a safe sport environment."

Arrington dominates the conversation. She talks about the importance of "establishing a sound reputation and gaining stakeholders' trust." Arrington tells them that a USOC vice president has agreed to help their fundraising efforts and another USOC person might be willing to serve as a liaison to SafeSport. There's talk about "draft mission," a "market strategy," and "mission statements." SafeSport, multiple times, is described in the meeting minutes as a "company" and Arrington and the USOC's Chad Sunderland at one point is described as talking about "organizations that could serve as customers or key partners."
The second half of the meeting takes places the next day and starts with this discussion:

There's talk about creating a corporate donor policy, limiting a corporate sponsor to at most 15 percent of the center's operating budget. No such limit is placed on the USOC. And in this, just the second board meeting, SafeSport's programs already are seen as funding opportunities:


The meeting minutes do not reflect any prolonged conversation about how to best prevent sex abuse.
The last seven items discussed all start out with talking points from Arrington. They talk about bylaws, standing committees, advisory boards, possible key hires, compensation philosophy, starting a 24-hour hotline, a case-management system, and even where to put the SafeSport offices.
Their next significant meeting is spread across two days in late June 2016. Again, outside of the board members themselves, only USOC people were present. They agree to have their executive search done by Korn Ferry, a search firm that has worked with the USOC before. The executive search committee says it has gotten information from the USOC on "traits that might be useful in USCSS staffing." Arrington discusses a staffing plan and branding, and the USOC's Yeoman talks about marketing. The board members talk about the importance "of telling a positive story."

There is still more talk about fundraising. Arrington reports that she has talked to the NCAA, but no details are given about how that conversation came about or how it went. The USOC's Steven Brewer is relieved of his position as SafeSport's treasurer, so that position can be filled with a board member. And even though the center hasn't even opened its doors, it already has a crisis plan.

At the meeting, the shared services agreement with the USOC is extended through the end of the year. A little more than a month later, the Indianapolis Star publishes its first story detailing how USA Gymnastics ignored decades of reports of abuse by coaches. The board meets by phone weeks later, on Aug. 15; there is no discussion, per the minutes, of that story. They do authorize Arrington to sign a lease on an office for SafeSport in Colorado.

And who gives quotes to reporters a day after the Star story, telling reporters that SafeSport will come to the rescue? Arrington.
Kate Brannen, a SafeSport spokeswoman from PR firm Hill Impact, said the USOC wanted a member of the working group on the center's staff, and the board chose Arrington. "Her experience and dedication to ending abuse in sport," she said, "was invaluable in getting us to where we are today. Arrington sent her own response to an email asking for comment, saying that in her deposition in the USA Taekwondo case, "I spoke to the many ways I learned about important aspects of sexual assault over the years (and have since published in this area); unfortunately, a sliver of what I said was misused, sensationalized, and has since been carelessly repeated as if it is fact. I am not going to engage in a back and forth over personal attacks. To do so would distract from the important work of ending sexual abuse in sport and developing a culture that champions respect."
The meetings continue like this. In September, a month after the Star story's publication, the meeting minutes still show exclusively USOC people in attendance. Arrington is still the person presenting information to the board and guiding NGBs on the possible changes coming up. There is no mention of the Star story in the minutes. But there is the first mention of an "operational readiness plan," with a start date of Jan. 1, 2017, and the board talks about "the need for an approved plan to guide [SafeSport's] public and media relations."

Again, the USOC is offered as a place for advice on fundraising, with board member Dr. Angelo Giordano saying one USOC vice president, Christine Walsh, "would be available to offer advice as to fundraising efforts." There is discussion of making an offer to a candidate for CEO, but the meeting minutes don't give a name.
On Dec. 9, 2016, the board thanks Arrington for her service as they welcome Shellie Pfohl as their CEO. But Arrington stays on, moving to the COO role. The tax records for SafeSport from 2016 say her "reportable compensation from related organizations" was $210,129 plus another $15,706 in "other compensation."
In the first meeting of 2017, Arrington—the longtime USOC employee who helped build SafeSport and then became a SafeSport employee—brings up concerns about conflicts of interest. She suggests a two-year waiting period before an investigator from an Olympic or Paralympic organization can work for the organization. There is a great deal of talk about fundraising, and Pfohl brings up the idea of relationships with American sports leagues as well as "rebranding" SafeSport training and educational materials.
That March meeting is the first one where the guest list includes people who don't have USOC titles. And while the center still has not opened its doors, there is another discussion about how to handle the media.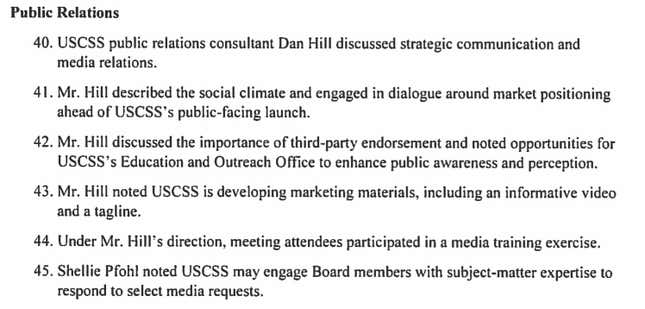 Board members get another media update at the next meeting, in June of 2017:

In late 2017, the USOC people largely fade away from the SafeSport board meeting minutes, and the minutes get shorter. There were no minutes from 2018 published on the SafeSport website. But the foundation had been laid—by people paid by the USOC.
When asked how they reconciled their independence with what the meeting minutes showed, SafeSport public relations provided this statement: "The Center's history is something that we've been very transparent about and it's well established that it was originally chartered by the USOC. Its independence comes from its governance, independent board of directors and bylaws. This is similar to the way the USOC initially established USADA, which today is an independent entity." (Less than one-fifth of USADA's budget comes from the USOC.)
Conflicts of interest have long been a concern for critics of SafeSport. Even before the center opened its doors, Hogshead-Makar, CEO of ChampionWomen, and Marci Hamilton, CEO of Child USA and a professor at the University of Pennsylvania, had sent multiple letters critiquing the proposed SafeSport code that the center would be in charge of enforcing. They went back and forth on several issues, including whether coaches should be allowed to be alone with children, who was covered by the SafeSport code, and how the organization could guarantee its independence. They mentioned this in their third letter:


Hamilton said she doesn't hold out much hope for what SafeSport can accomplish, and has even less hope than when she wrote those letters. She is still concerned by how SafeSport works, especially the lack of transparency in what it finds, because it means nobody but a select few people will ever know how systemic the issue within the Olympic community truly is. Without that type of transparency, Hamilton said, "you can't get the poison out of the system."
"The more I think about it, the more I think this is just not the way we get to where we need to be," she said, "which is maximum transparency and maximum justice."
So what does the SafeSport center actually do? According to its own code, it has exclusive authority to investigate sexual misconduct and other conduct prohibited by the code that "is reasonably related to the underlying allegation of sexual misconduct." That's it. It cannot investigate bullying or hazing or emotional abuse or physical abuse or essentially any form of abuse, outside of sexual abuse. All those other forms of abuse? They are the province of the NGBs—hardly an encouraging thought for anyone considering reporting abuse given the track records of multiple NGBs. 

This structure also ignores how much of the Olympic system happens beyond the official confines of the NGBs, in private clubs, leagues, and teams.

According to its guidelines, the only way the SafeSport center can take on an investigation that isn't connected to sexual misconduct is if it receives a written request from an NGB or USOC. Even then, any action would be at the center's discretion. And there are many more gaps that SafeSport simply can't fill. It has no jurisdiction over NCAA sports. It doesn't have jurisdiction over who owns a private sports club. It can't ban a person from showing up at private events, which already has become an issue with banned volleyball coach Rick Butler. And it can't stop individual parents from waiving concerns aside because they want their kid to win.
Operating perfectly, SafeSport will, by design, at best handle a fraction of abuse cases, while standing at a remove from some of the central elements of Olympic sports. As is, SafeSport is not set up to operate perfectly.
In her deposition, Arrington went over how much of the Olympic movement, by design, is beyond their control (the questions are from attorney John Little):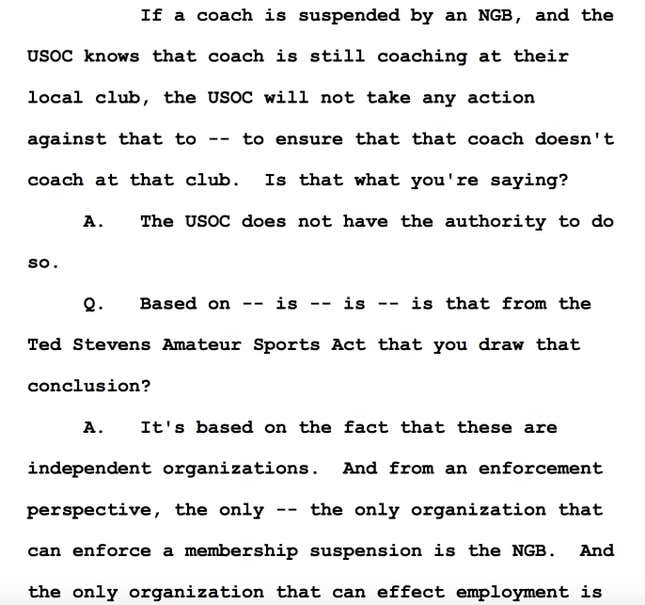 After some objections from a USOC lawyer, Arrington gives another answer on the topic.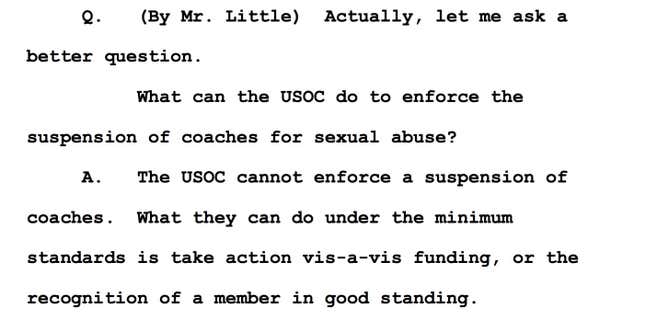 So, from the outset, the SafeSport center is, at best, limited. What is will be excellent at, though, is keeping the details of horrifying sexual abuse at the highest levels of Olympic sport out of the court system—where depositions like Arrington's can happen and become public.

"If they can head off the civil lawsuits," lawyer Stephen Estey told me, "they're never going to make any real, substantial change."
---
When Deadspin emailed SafeSport using the supplied media contact information, the responses came from Dan Hill and Kate Brannen of SafeSport's PR firm, Hill Impact. Hill said that about 19 percent of SafeSport's investigations are done by contract investigators. The names of the investigators would not be provided but their background, he said, was in "law enforcement, legal and investigations. Some come from Title IX." They are not allowed to have worked previously for an NGB or the USOC, he said. In a separate email, Brannen said that the average investigator has 10 to 15 years experience on sexual-assault cases.
But here's what the backgrounds of people who say they work for SafeSport shows: Pfohl doesn't come from a child welfare background. All her previous jobs have to do with encouraging eating healthy and physical fitness among children; her most recent role was as executive director of the President's Council on Fitness, Sports and Nutrition. Asked why Pfohl was selected despite her lack of experience working with victims of abuse, Brannen responded that she "is a more than capable, hard-working executive with significant experience in the nonprofit sector and the development of sport-related programs for youth.
Then there's SafeSport's former director of legal affairs, whose title was changed to director of investigations and outcomes shortly before Deadspin inquired about his background. Michael Henry says on his LinkedIn profile that he finished law school in 2012 at Texas Tech. He spent a few years doing Title IX work at Texas Tech, then joined a prominent Title IX consulting group, NCHERM, before taking over at SafeSport. Until at least June of this year, records show he was called the group's "legal affairs director," which sure makes him sound like a lawyer. He's referred to with that title, sourced to his LinkedIn page, in an Irv Muchnick blog post earlier this year in which Muchnick referred to him as the "chief lawyer for the agency."
"Legal affairs director"—is also how ZoomInfo catalogued Henry's business information. And in a letter Henry sent, dated June 5 of this year, he signed it as"legal affairs director." The letter was an exhibit filed in Richard Callaghan's lawsuit against SafeSport to stop his interim suspension for sexual misconduct. Here's the top of the letter:

And here's the bottom, with his title:

Henry, though, isn't a practicing lawyer. Deadspin asked SafeSport for the bar number and issuing state for Henry. SafeSport responded that Henry never took the bar and was never the general counsel, and that his title was "director of investigations and outcomes."
In response to follow-up questions about why his title had changed, SafeSport responded that the center knew that he wasn't a lawyer when he was hired and the title change was due to a recent reorganization in which the center hired a "chief of response and resolution," to whom Henry reports. That new employee, W. Scott Lewis, was announced via press release on July 5. Lewis also came from prominent Title IX consultants NCHERM.
Deadspin also found one woman who publicly identifies as a SafeSport investigator on LinkedIn and, as with Henry, has experience only at the collegiate level. She says that she did Title IX work at the University of Hawaii for about three years and, before that, worked at the University of Phoenix. One of SafeSport's contract investigators also was named through her emails to the lawyer for Callaghan. The investigator in that case is another Title IX lawyer, Kathryn "Kai" McGintee, with Maine law firm Bernstein Shur's Labor and Employment Practice Group and Education Practice Group. McGintee has been quoted as a Title IX expert in the past, and her name is mostly comes up with her sexual-assault investigations at Phillips Exeter Academy, which parents sued over how the elite prep school handled reports of sexual assault.
---
Hill, responding on behalf of SafeSport said he couldn't set up an interview with Pfohl within Deadspin's timeframe, but did offer to set up an interview with Katie Hanna, director of education and outreach for SafeSport. With a member of the group's PR team on the call, Hanna talked about her plans for the educational component of SafeSport. The current staff is extremely small, just a few people, and their budget is $1.5 million.

Overall, Hanna—who has a background in working to end sexual violence—sounded extremely positive. She talked about creating "a learning community" where peers and coaches teach each other best practices and reaching out to coaches who wanted to be part of the change. She said, "There are so many coaches who are working to end abuse in sports." And several NGBs, she said, had indicated they wanted to go above and beyond what SafeSport required. So far, they had consulted with Coaching Boys Into Men and Athletes As Leaders for guidance on building positive environments.
"So much about what works in prevention is having ongoing assistance and training to make sure it's effective," she said.
Asked what she could do about about NGBs, like USA Swimming, that have been called out for having poor or even dangerous SafeSport materials, Hanna said, "We will provide best practices to NGBs." The SafeSport center does have the authority to do random audits of NGBs to see if they are in compliance with the SafeSport code, and can issue consequences if they are not, but those consequences hadn't been finalized when we spoke.
Asked about the the sheer size and demand of what they were being asked to do—end sex abuse in sports—and with so few resources, Hanna answered with the positivity common to people who provide perpetually underfunded services for women and children. "We're up for the task," she said.
SafeSport's recent hires surely want to do good work. But can they make a difference? Pfohl's testimony before Congress last month showed how overworked they are. Between the time the center opened in March 2017 and April of this year, the group received more than 800 complaints, covering 38 out of the close to 50 NGBs. As of June, SafeSport had 14 employees: five full-time investigators, nine staff that work in other areas, and seven "external, contracted investigators. (Pfohl insisted these investigators were qualified, although she would not go into many detail about what made them so.) The entire budget, she said, is "a little more than $4.6 million." When asked if this is enough money and people to investigate every complaint thoroughly, Pfohl quickly replied, "No." (Since that interview, SafeSport has hired a chief of response and resolution, and have posted five job openings.)
The lack of funding isn't new, even if members of Congress act surprised in front of the cameras. From the Colorado Springs Gazette in April 2017:
In a March interview, USOC CEO Scott Blackmun said the delay in opening SafeSport was primarily financial. The USOC will provide $10 million to fund SafeSport's first five years of operation.
Raising those funds was challenging.

"We thought we would be able to raise financial support for this program faster than we were able to," Blackmun said.

Pfohl brings up the delay question without being asked.

"Gosh," she said, "we all wish it would have happened faster."
Those limited dollars explain why Pfohl had to give answers like this, when asked about how SafeSport will be able to audit how it is doing. "I would say," Pfohl said, before taking a long pause, "our resources are limited in that area in terms of self-audits, if you will. But our goal, and I know it is a high priority for our board, we will find the resources to be able to do it."
Since then, SafeSport says it has received more than 1,000 complaints. Brannen said the center had issued almost 300 sanctions and made more than 149 individuals permanently ineligible.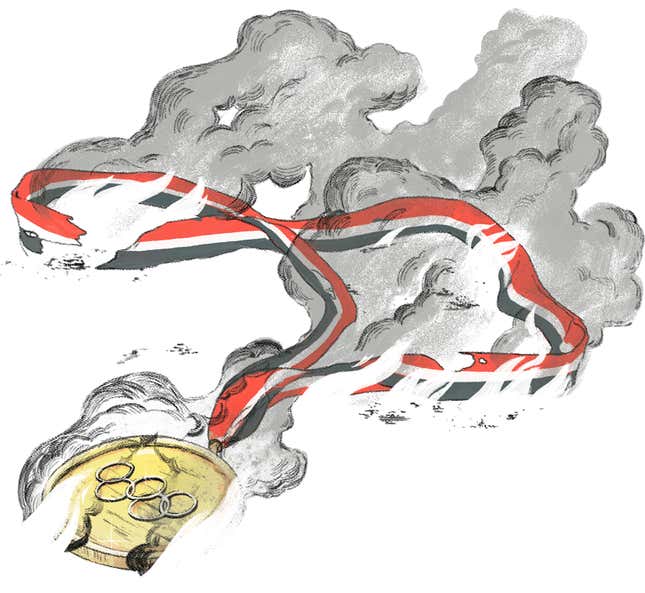 The money SafeSport does have comes largely from organizations it is tasked with policing or that have relationships with the Olympic movement. The center itself didn't have its own tax returns, known as 990s, until 2016, when it reported having less than $1 million in net assets and $1.5 million in revenue. Most of that—$1.07 million—came from "related organizations," meaning the USOC, which said on its own tax return that it gave SafeSport $1.07 million that year for "furthering Olympic and Paralympic support." SafeSport also gets money from the NGBs, although those figures are much smaller. USA Swimming president and CEO Tim Hinchey, for instance, told Congress that his organization, which is one of the larger NGBs, gave about $43,000 a year.
Public records don't yet detail how much the USOC has given SafeSport more recently. SafeSport's website, though, lists their sponsors: two Olympic organizations; the NBA and WNBA, which work with the Olympics; ESPN, which has Olympic ties too; and NBC, the network that broadcasts the Olympics. It's difficult to understand how SafeSport can be considered independent—no matter how many times Pfohl and told Congress, "I don't answer to anyone at the USOC"—when so many organizations that benefit from the Olympics are cutting the checks.

It didn't have to be this way. One version of the United States Center for Safe Sport Authorization Act, filed by Sen. Bill Nelson and Sen. John Thune in 2017, included a provision to give SafeSport $1 million each year. That's not nearly enough to cover everything, but such a setup would at least represent a start. The final version of the bill, which passed earlier this year, contained no language about how to fund SafeSport, forcing the organization that's supposed to make millions of children across America safer to go out and find its own cash. So while members of Congress go through hearing after hearing worrying about SafeSports' conflict of interest, they leave how they themselves contributed to it.

Deadspin asked spokesmen for Nelson, Thune, and Sen. Dianne Feinstein why appropriations were left out of the bill; a member of the Commerce committee staff responded to the inquiries by saying the funding language ended up getting replaced with a "DOJ competitive grant included/funded in the omnibus."

That grant, according to the bill that passed, is for $2.5 million, while the 34-page solicitation puts it at about $2.2 million. The SafeSport Center, in theory, is a lock for the funds because the program is earmarked for "an eligible nonprofit nongovernmental entity in order to support oversight of the United States Olympic Committee, each national governing body, and each paralympic sports organization with regard to safeguarding amateur athletes against abuse, including emotional, physical, and sexual abuse in sports." But they still have to apply. And wait.
What about in the coming years, especially after 2022, the last year mentioned in the funding bill? Will there be more grants? That is up to Congress, the organization that created the USOC and its entire system of buck-passing.

Given the distinction between the SafeSport center and SafeSport as a program, most of what SafeSport is and does will, ultimately, take place at the sport level. And as anyone who's read coverage of NGBs like USA Gymnastics, USA Swimming, USA Taekwondo, or USA Diving over the last year and a half knows, this is an issue. These are the very bodies that have failed to act on, or acted to cover up, reports of abuse.

"Right now, all the power resides with what some people refer to as the suits—the administrators and the Karolyis—and none of the power resides with the athletes," Hogshead-Makar said. "It's a zero-sum game. So how do you move it from them to the athlete?"
It's hard to know where to begin with the list of problems that make that movement so difficult: the lack of oversight of coaches; the incomplete lists of banned coaches; and the lack of significant change at many NGBs, where a leader can easily survive a sexual-abuse scandal, are among the most serious. Perhaps unsurprisingly, even the very people hired to execute SafeSport at the NGB level can raise red flags.

"I have a huge problem with how most NGBs hire people to work in SafeSport, and that is they don't hire people from outside sports. They hire marketing people," Hogshead-Makar said.
A visit to several NGB's SafeSport websites shows most are bland collections of graphics, brochures, and hotline numbers. One of the more robust online programs belongs to the sport that started SafeSport and one of the largest NGBs: USA Swimming, where it's already been called a farce and a sham. Swimming promoted Susan Woessner to oversee SafeSport, even though her prior job had been in business operations; she resigned after the Orange County Register reported that she had kissed a coach accused of sexual abuse. ThinkProgress dove through USA Swimming's SafeSport materials and found plenty of troubling messages, like one exercise that said, "It's coaches' jobs to care about you!"
And the downright glibness of the SafeSport Activity Book, a coloring book that USA Swimming puts out quarterly, shows SafeSport at its conceptual worst, functioning as literal public relations. (According to the website, the coloring book is meant to start conversations about "all the reasons to love the sport of swimming.") Let's go through the most recent issue.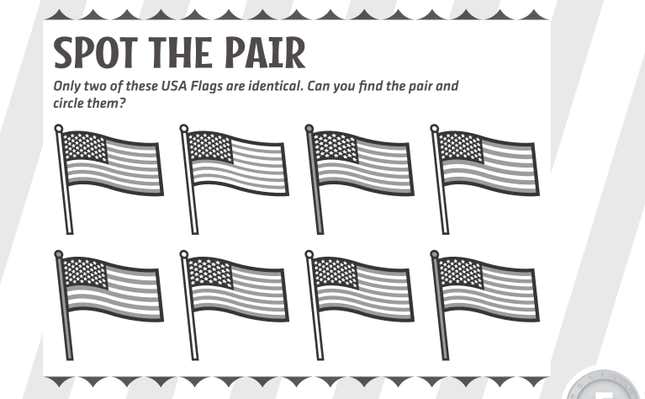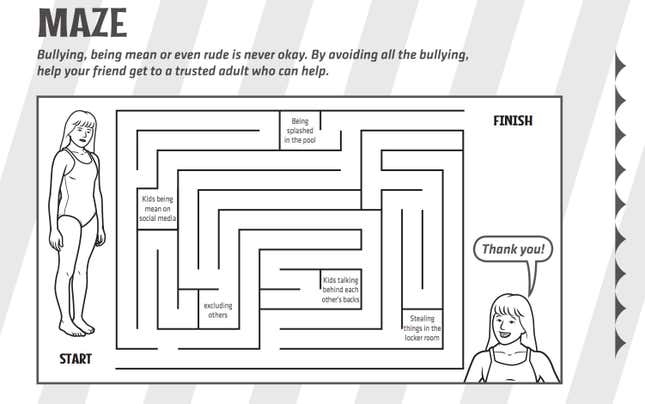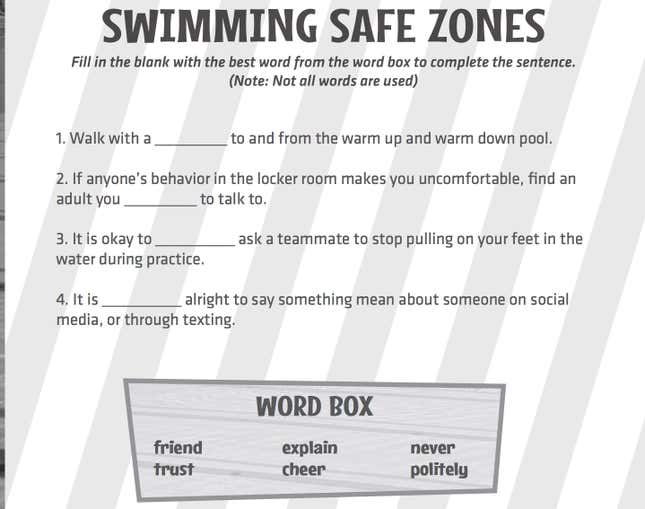 The coloring book adventure concludes with our guides sending us off, saying we are ready to be SafeSport champions.
Bostick, the former swimmer who came forward about her abuse, has expressed her concerns to USA Swimming about these materials as well their program overall. When people see the logo for USA Swimming, Bostick says, they "think this is someone who will help me be healthy, someone I can trust. This isn't someone in a broken-down van with a puppy offering you candy. It inspires trust." (USA Swimming did not respond to requests for comment.)
Add to that the power of a catchy brand, like SafeSport: "When you see SafeSport, you are going to assume it's the best material out there in terms of athlete safety and prevention," Bostick said. "Instead, it's terrible. It's a marketing arm of USA Swimming, but with people's lives on the line."
Or look at USA Gymnastics, another one of the largest NGBs. Its president, Kathy Perry, recently spoke at a regional gymnastics meeting, and the full audio was aired by the podcast GymCastic. Perry talks about exercises to describe what words best describe their core values. She says "empowerment" a lot, plus "safety" and "culture" and "SafeSport." Perry hits every buzzword that's expected. It all sounds good, but it's difficult to point to anything concrete substance beyond the expected marketing speak.
---
"We're not here today to tear down the sporting world," said U.S. Rep. Diana L. DeGette, whose district includes the SafeSport center, during one of the many recent rounds of Congressional testimony.
That is part of the problem. Ending child abuse both within and beyond sports is about tearing things down, and about remaking the world. Hamilton, who has studied child abuse across multiple institutions, wrote last year on what she has learned from seeing the same crimes committed over and over again in different institutions, different states, and different walks of life but always with the same horrifying details "because child sex abuse is as old as humankind and just as entrenched."
This tectonic shift cannot happen when discrete organizations are left to their own devices, no matter how good their intentions, because unaccountable organizations (and that is what an organization governing itself is) will devolve into scenarios of self-protection and adult preferentialism. The law has set up organizations to these ends, actually: The boards of directors have fiduciary obligations to the organization, the leadership is awarded for its success for the organization, and the fans of the organizations have an insatiable appetite for its public achievements. When you add to that the ingrained tendency of adults to put adult interests like reputation and career ahead of children, the result is that children continue to be institutionally incapable of overcoming these biases against protection.

Instead, America has been given SafeSport.

It is, in some ways, a distinctly American creation—born from the rib of a marketing agency, given a gargantuan task, forced to figure things out on the fly with little oversight, and to pay for itself. It's not surprising that SafeSport is underfunded and overworked, that it may employ people who are under-qualified, or that it has been heavily influenced by people who appear to care more about trademarks and preventing lawsuits than protecting children. You could apply the same observations to plenty of child welfare agencies across America. What's surprising is that anyone thinks SafeSport will somehow turn out different than every other attempt to help children.
SafeSport, as currently constructed, will not accomplish its lofty goal, but it will make for great marketing. Give the lawyers a good phrase to say—something cleaner than "sexual assault" or "rape" or "abuse"—and trot out all the usual people to insist that there's nothing to see here, that their handpicked people will take care of it just like they always have, and you can get away with a lot. Given the USOC's own history, there's no reason to think this was ever about anything else.