New Orleans Saints head coach Sean Payton, who coached defensive end Will Smith for six years, has spoken publicly for the first time since Smith was shot to death in New Orleans on Saturday night. In a phone interview with USA Today, Payton said, "I hate guns," and American gun culture in general.

The entire interview is worth a read, but here's the heart of it:
"Two hundred years from now, they're going to look back and say, 'What was that madness about?' " Payton said. "The idea that we need [guns] to fend off intruders … people are more apt to draw them (in other situations). That's some silly stuff we're hanging onto."

[...]

"I'm not an extreme liberal," Payton said. "I find myself leaning to the right on some issues. But on this issue, I can't wrap my brain around it."
It's rare to see an athlete or coach speak about an issue like gun control in such direct terms. This wasn't a PSA riddled with vague sentiments; it was a guy who is clearly hurting expressing himself in the clearest terms.
G/O Media may get a commission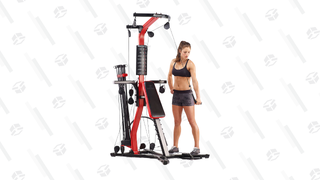 31% Off
Bowflex PR3000 Home Gym