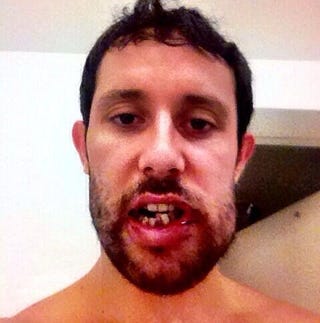 Dear lord, Sam Gagner, what happened to your face?! Oh right, Zack Kassian's stick.
On Saturday, the Oilers center went down after Kassian tried to run him against the boards. Kassian missed, but his stick swung up and around and cracked Gagner across the face, breaking his jaw. It wasn't intentional, but the NHL has made clear that players are responsible for their sticks. Kassian was suspended for the rest of the preseason and the first five games of the regular season.
Gagner tweeted out this gruesome selfie last night. He should be back in a couple of months.
Here's the hit, along with the NHL's explanation of Kassian's suspension.