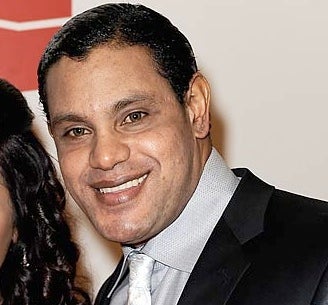 The formerly dark-skinned Sosa spoke out about his ghostly new look and he would like to let everyone know that he's not dying or anything: "It's a bleaching cream," he said. You don't say.
Sosa told Univision's "Primer Impacto" his spooky pallor is a result from aggressive rejuvenation treatment that's backfired a bit. "It's a cream that I have, that I use to soften [my skin], but has bleached me some. I'm not a racist, I live my life happily."
Sammy wouldn't reveal the name of the cream (only that he purchased it in Europe) but he said his over-usage and the bright lights were the culprit.
After doing some half-assed Google research, it appears Sosa probably used a skin care product containing an enormous amount of Hydroquinone, a skin bleaching agent which, if used improperly could cause someone's skin to turn the color of old dog shit. Super White Sammy turns 41 tomorrow, by the way.