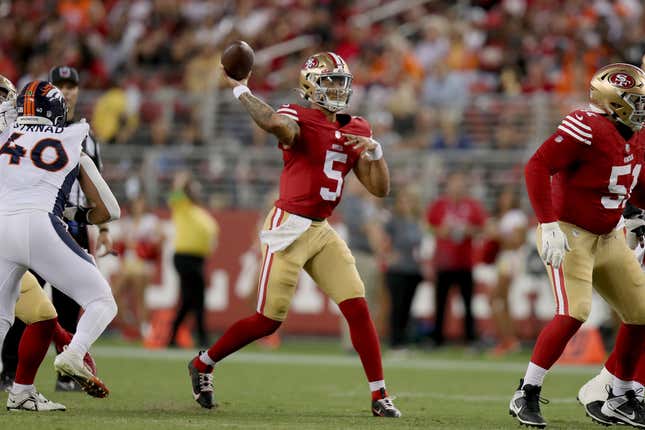 The reactionary nature of the sports media has foisted Trey Lance on the trading block after the third overall pick in the 2021 NFL Draft fell to the third spot on the San Francisco 49ers QB depth chart. Losing any quarterback competition to Sam Darnold is perilous for your career — especially if it's for the backup job — but it still feels way too early to punt on Lance.
Was Trey Lance Kyle Shanahan's biggest mistake? | Agree to Disagree
While I'm not here to zig into oncoming traffic, and tell you he will reach the potential of his physical gifts, I am saying the Niners might want to hold off trading him. Kyle Shanahan's tenure in the Bay Area has been overwhelmingly successful… when injuries aren't ravaging the roster, or his signal callers.
He has as many double-digit win campaigns as double-digit loss seasons, and while Jimmy Garoppolo's delicate features were responsible for all of those disappointing years, Lance broke his leg in Week 2 of 2022, Jimmy G broke his foot in Week 13, Brock Purdy suffered an injury in the playoffs, and they had to resort to Josh Johnson under center.
I'm not sure if the pendulum of luck has swung the other way after the Niners had so much good fortune in the '80s, and early '90s, or if it's injury-prone players, or something to do with the system, but for whatever reason, Shanahan's QBs shatter easier than a bong meeting a rock.
Technically, Johnson was San Francisco's fourth quarterback, but that, coupled with the volatility of the position due to concussion protocols, prompted the NFL to create an emergency quarterback rule.
It's a bit confusing, but essentially teams can carry an emergency third QB on the roster without it counting toward the game-day roster. There are 53 roster spots per franchise, but only 47 can dress on game day. This new rule makes it so a team can dress 47, plus the emergency QB.
The catch is the third QB can't be elevated from the practice squad, so since Lance is under contract due to his rookie deal, and knows the offense, he's ideal if not overqualified.
The new rule also makes finding reserve quarterbacks even more difficult at a time when they're arguably more valuable than ever.
This 49ers team needs any and all insurance policies
Purdy is coming off a serious shoulder injury that required surgery, and as great of a story as he is, and as well as he played as a rookie, he's still a second-year quarterback subject to lapses of common sense like any other young QB who hasn't had it drilled into him for a decade. The 49ers have a Super Bowl-ready roster, and should hedge in as many ways as possible with that kind of luxury.
What good is trading the third pick in the draft when his value has bottomed out? Not every seventh-rounder turns into Purdy, and giving Lance away for next to nothing just solidifies that the 49ers went all-in, and busted out.
There's no guarantee that Darnold — who lost a QB battle to Baker Mayfield this time last year — will hold down the starting spot in the event that Purdy gets hurt again. Also at this time last year, there was buzz about Lance potentially breaking through as the star Shanahan and the front office envisioned.
That was preseason hype at its most irresponsible, yet who would you rather have as a third option: some token journeyman QB, or a player with the upside of Trey Lance?