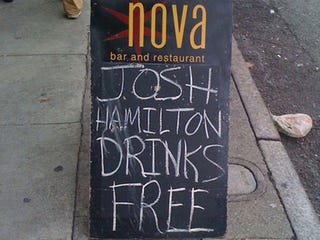 Because no one reads the newspaper, and SportsCenter's anchors are too perky for this early in the morning, Deadspin combs the best of the broadsheets and internets to bring you everything you need to know to start your day.
• The Giants shut out the Rangers and grabbed a 2-0 lead, and now the World Series takes its leave of San Francisco and its friendly saloons. Meanwhile, child-sized Ron Washington was on Texas TV yesterday, which means the shrink ray/Masons theory I've been kicking around is bunk. Back to the drawing board.
• There was no sight of the John Wall Dance last night as the heralded rookie made his "pro debut" and the Wizards promptly lost to the Magic by 29. Hey, at least they've got a shot at Harrison Barnes.
• Carmelo Anthony is still pretty adamant about being traded and even Dikembe Mutombo's wagging his finger at 'Melo's behavior.
• Here's a hot scoop out of the frigid belaked state of Minnesota: Did the Blazers knowingly trade an injured Martell Webster to the T'Wolves? I know it's cute to make fun of David Kahn, but damn that is inept.
• Looks like the days of making Drunk Vin Baker jokes are nearing an end. He's around the twelfth step now. It's wrong to root for a relapse, right?
• Don't have time to read all of the VF excerpt about Conan and Leno? NY Mag cribbed some choice quotes.
*****
Morning. It's Friday, put your feet up.