At 10:30 in Chicago, they decided to send the horses home.
Mounted police units had been stationed around Wrigleyville to handle crowd control on the chance the Cubs advanced to the NLCS and the bar crowd spilled into the streets. But it was the ninth inning, and the Giants were up three runs, and Chicago PD assumed there'd be no party that night. The Giants probably assumed they had a Game 5 date in the bag too. But if this season taught us nothing else, it's that we shouldn't assume anything when the Giants' bullpen is in play.
Ohtani has the WBC, but will Mike Trout ever lead the Angels to a championship? | Agree to Disagree
It was a collapse for the ages, a 5-2 lead turned into a 6-5 loss, and it took a village: Five Giants relievers came on in the ninth, and all five put the first man they faced on base. Manager Bruce Bochy must have come to dread that walk to the mound, because nothing he did, no one he brought in, could even get even one damn out until the lead was already gone.
This was the nightmare scenario for the Giants, whose second-half near-collapse had much to do with their shaky relief pitching. In the previous even years, the championship Giants always had a dependable closer: Brian Wilson, Sergio Romo, Santiago Casilla. This time, it was up in the air. Before the game, Bochy was asked who he'd turn to in a save situation. "I'll tell you in the ninth," he said, smiling.
G/O Media may get a commission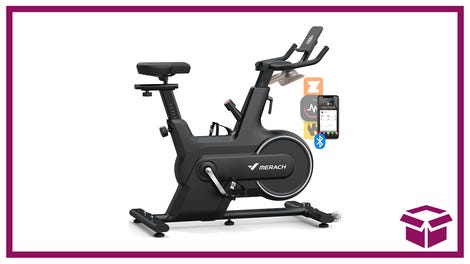 14% off + Coupon
Merach Indoor Cycling Bike
After the game, Bochy wasn't smiling:
"I would like to think you're going to get three outs there," Bochy said. "We couldn't do it."
The reliever parade looked like this: Law-Lopez-Romo-Smith-Strickland. And if you want to second-guess Bochy, you can get him on both ends. Matt Moore had pitched a hell of a game, two hits over eight innings. But he was at 120 pitches, and a three-run ninth-inning lead ought to be safe with any reliever. But with all those relievers, at no time did Bochy even call for Santiago Casilla, he of the 31 saves this year, to warm up.
Casilla, who (justifiably) lost the closing gig in September, was inconsolable after the game, crying at his locker.
"I'm a pitcher. I'm part of the bullpen. I know I have had some bad moments in September and during the season, but I have good numbers in the playoffs and I know I can pitch in that situation. I know I can pitch in the big leagues."

[...]

"I never had that moment before during five years here," he said. "I had a little struggle. But everybody has had their bad moments. I think they forgot all the great moments I've had here. I've pitched a lot in the playoffs and done my job. I know I am a good pitcher."
Casilla won three rings in San Francisco, but he's a free agent and probably won't be back. Two retrospectively obvious lessons were imparted last night: Even-year magic is not a real thing, and you can't win a World Series without a bullpen.