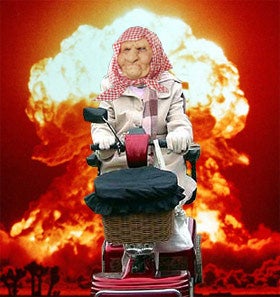 I'll admit that this one has a tenuous link at best to sports, but come on; two elderly women are playing bumper cars with their mobility scooters in the middle of a supermarket, and you expect me to simply let it slide? I'm not made of stone! It goes without saying that if Versus made this a weekly event, they'd have me as a permanent viewer. And now to the Excerpts of Hilarity:
Two elderly women on mobility scooters had to be dragged apart as they exchanged blows and rammed into each other in the aisle of an Iceland supermarket.

Shoppers watched in amazement as the pair began trading blows and ramming each other in a furious row over money.

Cops were called after staff heard screams from the fruit and veg aisle and officers broke up the brawl. One of the pair, 78-year-old Lucy Heslop, was led to an ambulance with blood seeping from a rip in her arm.

A shocked shelf-stacker told how the grannies set about each other in the Iceland store at Crawley, West Sussex. The worker said: "It was truly disturbing. They were ramming each other like dodgems."
Mock the Chinese if you will, but they totally saw this day coming. And they are prepared.
Rage At Any Age: Mobility Scooter Grannies Exchange Blows In Supermarket Clash [Daily Mail]
Granny Bashers At Supermarket [The Sun]